Truckers are the heroes of America's supply chain in the COVID-19 pandemic. Over 3.5 million are on the roads of the United States today, delivering everything from medical equipment and supplies to the food we eat, and each day they come in contact with shippers, distribution centers and the receiving dock personnel.
According to census information, an additional 5.2 million non-driving warehouse employees are involved in the delivery of loads of fresh fruit and vegetables, canned goods, medicine and medical equipment to local stores and hospitals. The combined 8.7 million trucking and warehousing employees are on top of the essential services list and they need to stay healthy. Without their constant service, America stops.
Despite daily contact with shippers, customers and trucking services employees, truck drivers are some of the healthier members of the essential services workforce. They are trained professionals who understand the essential part they play in America's supply chains.
As such, they understand the need to maintain safe distances to keep the wheels turning and supplies moving. There are many other practices for staying healthy in trucking that extend to millions of employees that support truckers' essential role, from dock workers to dispatchers, mechanics, back-office workers and on down to fuel station operators.

Click here to view our full coverage of the coronavirus' impact on the trucking industry from the leading industry publications of Commercial Carrier Journal, Overdrive, Truckers News and Trucks, Parts, Service.
The vast majority of truck drivers work for smaller regional and local trucking firms or are independent contractors. Only one in five work for the county's 100 largest trucking companies. No matter where they operate, drivers must meet the same safety challenges in the supply chain requirements posed by COVID-19, and the last few miles of any transport are often the most challenging.
Below are four examples of transportation companies who are providing essential transportation services and are keeping drivers safe in the COVID-19 war.
Brent Redmond Transportation
A family-owned transportation company based in Hollister, Calif., Brent Redmond Transportation's motto has always been "Heroes in the Cold War," with operations that haul refrigerated food items up and down the West Coast. Today, its drivers are facing the daily COVID-19 challenges with the same approach they use for road safety — diligence, a great attitude, and by having the right tools.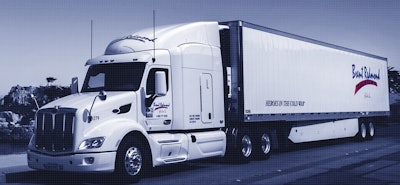 "The public doesn't understand the risks to our drivers. They go to the store and buy their salad and don't think of how many transportation professionals were involved in the supply chain," said Owner Brent Redmond.
Redmond takes his responsibility very seriously. His cousin, a non-employee, passed away the first week of April from the COVID-19 virus. This event sharpened his focus on protecting his drivers and he started stocking truck cabs with Personal Protective Equipment (PPE) and supplies that include gloves, sanitizers and training.
Because multiple drivers use the same vehicle during the day, the drivers are especially conscientious when wiping down the steering wheel, gear shift and other common touch points.
To date, his drivers are healthy, and Redmond intends to help keep them and their families that way. Management instructs drivers to plan their breaks and fuel stops around the safest, least crowded locations.
Redmond and his team have also developed a restocking strategy to get the supplies to drivers based on their travel destinations.
"With heightened awareness of the pandemic's dangers – be safe, knowing that you are an important member of the family," Redmond tells his drivers. "The company culture has been strengthened and our drivers are important to its health."
Bulldog Highway Express
Phil Byrd, president and CEO of Bulldog Hiway Express (BHE), a Daseke company, is a past chairman of the American Trucking Associations (ATA) and is passionate about the contribution his drivers make to the country.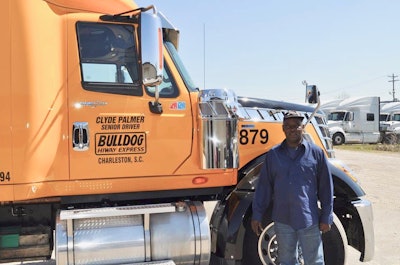 If a large item of equipment is needed for a new factory or hospital, there's a good chance a Daseke truck will haul it. As a past ATA official, Byrd extends his safety concerns to all truckers.
"Because of this virus, people are more appreciative of the contribution truck drivers make. [Drivers] contribute to every person in America. Even in harms' way, the U.S. truck driver delivers the freight," he said.
BHE, headquartered in Charleston, S.C., and other Daseke companies are providing hand sanitizer, gloves and other sterilizing products to keep trucks sanitized and drivers safe.
Technology also plays a part in BHE's COVID-19 efforts. Paper documents coming from pickups and deliveries are immediately processed using in-cab scanning while wearing synthetic gloves. Not only does it improve workflow for their business systems, it also reduces paper transmission of a virus from a variety of sources.
What's most important to Phil Byrd? "Our people. Their health and physical, mental and spiritual well-being, knowing that they are appreciated and knowing that we'll stand by them through this crisis."
It must be working. To date, there are zero reports of infected drivers at BHE.
JIT-EX, LLC
JIT-EX meets its challenges head-on as drivers are facing COVID-19 potential daily. Working in some of the hardest-hit southern states, the Memphis-based company may have the most challenging of trucking assignments with regional and local truckload and LTL freight. Its drivers hit between six and 10 docks per day.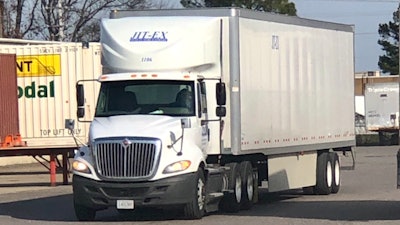 With terminals in Nashville and Atlanta, the cross-dock LTL operation could lead to widespread exposure for employees and drivers. Only strong direction and immediate action has prevented any reported cases of COVID-19.
"Protecting our employees and our customers is our number one job right now," said Bobby Watts, president of JIT-EX. "Every day, employees are reminded of our responsibility to each other and to our families to stay healthy."
One employee, notified of possible COVID-19 exposure, just finished two weeks of immediate self-isolation but remained on the job at home with his work computer. He tested negative for the virus.
Local drivers were accustomed to punching a time clock. They now go directly to their trucks and use their mobile communications login for a time clock. With slip-seating, multiple JIT-EX drivers may use a single truck through the day. The first items on their checklist? Paper towels and sanitizer to wipe down all touched surfaces in the cab.
Vice President Robby Harris, Watts' partner, ticks off a long list of proactive actions they've taken to insure the health of the employees and drivers:
"Every day, we have three people on the phone talking to our drivers, reminding them of good practices, and that they have to stay healthy for everyone's benefit. We remind them to use sanitizers, wear gloves and, when possible, to stay in their trucks."
Customers are supportive of the driver's actions as they avoid direct contact with each other and benefit from the reduced face-to-face contact.
At the beginning of the pandemic, JIT-EX converted unused warehousing in to separate workspaces for both drivers and office personnel, providing all employees with more than 6-feet distance. Likewise, the fleet is separated into two groups with a separate space for each group.
The company practices a "stay in your chair" policy to reduce close social contact in the office. Increased use of technology via instant messaging and FaceTime assists with office communications.
Watts and Harris send out the same message, "Wash your hands, maintain your distance, use disinfectants [and] be safe."
Pride Transport
Pride Transport, a refrigerated hauler out of Salt Lake City, is not only family-owned but also family-oriented. Hauling refrigerated food from the breadbaskets of California to intermountain and eastern states, the company introduced COVID-19 prevention measures early in the pandemic cycle. Everyone from driver to office personnel is a member of the family.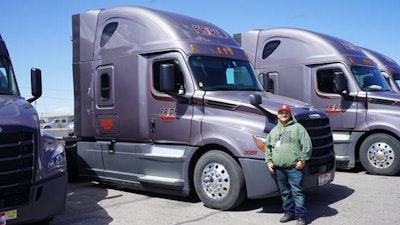 "Hey, truck drivers, in case we don't say it enough, thank you" reads the headline of the featured article in the company newsletter. Jay England, the second generation CEO of Pride, emphasizes the importance of drivers even more.
"Driver bonuses have been paid for putting themselves at risk on the front lines and we will stand with them throughout the crisis," he said. Pride has published protocols in case of driver illness – testing, care in a hospital, re-routing the load or equipment and getting a driver back to his or her home base.
Drivers are not the only members of Pride's large family to be helped. Currently, 75% of non-driving employees are working from home. The high demand for food products has kept all Pride resources busy. Last week, when excess orders decreased slightly, the first dip in total tonnage was felt across the industry. England does not expect the demand for refrigerated food to decrease significantly in the near future, but either way he is committed to riding it out with his employees.
What has changed for the drivers because of the COVID-19 pandemic? "Many of the front-line shippers are more understanding of the risks to our drivers," said England. "Drivers are feeling the appreciation when they deliver their load of food."
Pride stocks the cabs with protective masks and toilet paper for the drivers. "Supplies, training and communication with our drivers is key to our success."
Let them know you care
Every trucker and each trucking company is doing their best to fill America's shelves with food, medical supplies and equipment vital to fighting COVID-19 at great risk and tremendous personal sacrifice. We can all show our support in various ways:
Sending text messages of appreciation.
Tweet your thoughts or stories using #TruckDriversAreHeros.
If a trucker's family is in your neighborhood, let them know how much you appreciate their trucker and see if they need something.
If you work on a dock or at a warehouse, do what you can to reduce any dangerous interaction with the driver.
Maintain your own hygiene and social distancing with others.
Finally, truckers need access to more services while they're out on the road. As a country, we need to be more accommodating of truckers as they travel. They need a hot meal, but restaurants are shut down. They need fast food but can't drive through most fast food stands. They need rest stops for their mandatory rest and sleep stops, but many rest stops have been shut down. They need places where they can stop for their personal hygiene needs, but truck stops are often crowded and defeat many social distancing practices.
Come on, America, put your creativity to work. Don't just say you care about truckers, do something for them. But don't give them hugs.
Glen Lowry is a transportation technology consultant and occasional contributor to transportation publications. His company, Systems ROI, helps transportation companies improve the return on their McLeod Software investment by more efficient utilization of its functionality. He can be reached at Glen@sysroi.com.