Trucking news and briefs for Friday, April 10, 2020:
'Virtual Truck Repair Expo' kicking off late in April
Diesel Laptops, a distributor for commercial truck and off-highway diesel diagnostic software and hardware, will host a virtual trade show on April 29-30 with the "Keep It Moving" theme guiding an array of sessions aimed at functioning like a traditional conference.
Attendees will be able to visit virtual booths and speak live to representatives through a chat feature. They'll also have the ability to save product information, videos, case studies, and other marketing collateral through a digital briefcase to review even after the show ends. There will also be live and pre-recorded presentations, Q&A sessions, and breakout sessions for attendees and sponsors to participate in.
"Everyone is facing a bout of uncertainty during this global pandemic. That's why it's so important for us to come together
as an industry to move forward and strengthen this battle against COVID-19," said Tyler Robertson of Diesel Laptops. The proceeds from event exhibitors and sponsors will be donated to the American Red Cross.
Indiana launches temporary program for food trucks at rest areas
Following the Federal Highway Administration's announcement that it is relaxing enforcement of regulations that restrict food trucks from operating at interstate rest areas, the Indiana Department of Transportation on Wednesday launched a temporary permit program that will allow food trucks to do just that.
INDOT says the program will help provide more food options for truckers still on the road during the COVID-19 pandemic. The agency will issue two permits for food trucks to operate between 7 a.m. and 7 p.m. each day on a first-come, first-served basis.
A full list of rest areas where INDOT is allowing food trucks is below: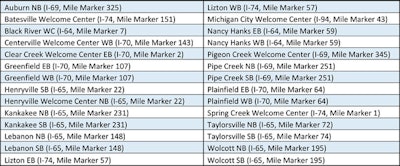 Love's donates $100k to trucker charity
Love's Travel Stops announced Thursday it recently donated $100,000 to the St. Christopher Truckers Relief Fund, which helps drivers who can't work due to illness or injury in the form of direct payments to providers for household expenses, including mortgages/rent, utilities, vehicle payments and insurance.
"This donation reflects our belief that professional truck drivers are the backbone of the U.S., especially during this challenging time," said Jenny Love Meyer, executive vice president and chief culture officer of Love's Travel Stops. "This contribution enables us to help drivers with immediate needs when they are unable to work due to COVID-19 or other medical issues."
Utah requiring all travelers entering the state to fill out a health/travel survey
Governor Gary Herbert, in conjunction with with the state's Department of Transportation, issued an order Thursday that will require anyone entering Utah by a major roadway – including truckers – to complete a travel declaration form.
The order goes into effect at 8 a.m. today and remains in effect until 11:59 p.m. May 1, 2020.
Nine state entry points are geo-fenced and will deliver the travel entry form to a driver's smartphone, similar to how Amber Alerts are distributed. The survey asks for a 14 day travel history and drivers have three hours to complete the form upon entering Utah.
Among other things, the form asks if the individual has been tested for coronavirus, the results of the test and if they are currently experiencing symptoms.