To help minimize downtime, truck OEMs supply fleets with remote diagnostics services that provide alerts for vehicle fault codes and assist with scheduling repairs at dealerships.
Some fleets also invest in advanced diagnostics tools that identify maintenance needs proactively, and a number of these tools can predict fault codes before they appear.
Suppose a fleet manager has information showing a vehicle has a 20% likelihood of a critical fault code within the next 20 days. The issue could be diagnosed from afar and a repair scheduled if warranted.
By predicting vehicle maintenance needs, unplanned repairs that otherwise cost fleets between $700 and $1,500 in lost revenue per day can be averted.
Predicting fault codes
Trimble Transportation's data science team develops predictive models using data collected from customers who use the vendor's enterprise software and fleet mobility systems. Trimble has predictive models for driver retention and vehicle maintenance.
Using the model that predicts a driver's likelihood to leave a company, a fleet manager could mitigate turnover risk by calling the driver to discuss unresolved events. But this is a different type of problem to solve than predicting fault codes and giving mechanics information to take action, said Chris Orban, vice president of data science for Trimble.
To help diagnose predictive fault codes, Trimble has added more information to the model's user dashboard to provide a more holistic view of vehicle health. The model uses statistical analysis to identify values that are out of range when compared to historical operating information for engine temperature, airflow, fuel pressure and hundreds of other data points.
"What we are really pushing is a next evolution of remote diagnostics," Orban said. Technicians can use the dashboard information to save time diagnosing problems by starting with a specific goal in mind when a vehicle rolls into the shop.
"We think we have to provide people as much information for not only what is happening but why," he said. Rather than just identify that the intake manifold pressure is low, "why not also give the average load the engine has been under and exhaust temperature? We put it all on one screen, so you can do the diagnosis remotely and know what to do when you bring the truck in and not spend time looking for the wrong thing."
Trimble's vehicle maintenance model is available as a module for its web-based TMT Fleet Maintenance software.
Virtual technicians
Aftermarket telematics systems on vehicles typically have read-only connections with the data bus. For full-featured diagnostics, trucks traditionally have been brought into a shop bay and connected to a computer or handheld device.
Noregon's TripVision Uptime remote diagnostics tool comes with a telematics platform and builds on the company's existing TripVision product available through telematics providers for all vehicle makes and models.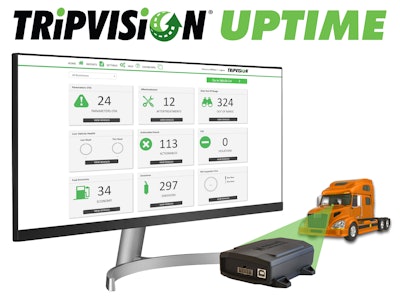 TripVision Uptime uses the company's proprietary ND2 hardware installed on the vehicle with bidirectional controls for aftertreatment control module (ACM) resets, forced diesel particulate filter (DPF) regenerations, parameter adjustments and over-the-air (OTA) fault clearance.
The tool's dashboard is formatted to provide a high-level overview of issues affecting the health, safety and performance status of individual fleet vehicles. The issues are scored and color-coded based on severity and have an associated effect-on-vehicle description and recommended action. Users can drill down for pertinent information for each vehicle.
Predictive maintenance software also can help manage tire costs. Dana's cloud-based Rhombus TireAnalytics software can analyze and reduce cost per mile (CPM) by comparing tires to identify and predict maintenance issues.
The CPM tire comparisons can be determined by application or axle type. Technicians can use an app to record more complex jobs from anywhere on the shop floor, such as rotating a set of tires while matching pairs of dual tires.
As vehicles continue to grow more complex, so do the technologies that are available to detect and correct issues to maximize their utilization.