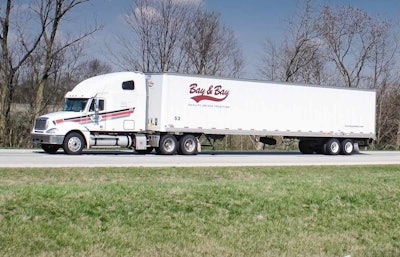 While $17 plane tickets may not stick around in a post-pandemic world, there are changes that fleet managers and trucking analysts expect to remain following the unprecedented crisis that forced companies to implement a host of new practices in recent months.
TransLand, a Springfield, Mo. based fleet offering dry van and flatbed hauling, for instance has leaned on virtual orientations for new driver hires since COVID-19 showed up. And they expect the change to become mostly permanent.
"That's probably been one of our greatest productivity gains though this issue," TransLand CEO and Chairman Mark Walker said this week during a WorkHound conference call on possible long-term business practices brought on by COVID. "We went from a two-and-a-half to three-day orientation down to one-and-a-half days. We moved things onto video for most of the departmental messages.
"I think it's an exciting time for the industry and I think out of every one of these crisis situations comes wonderful opportunities for innovation and we're seeing that across the board," Walker added.
While switching to more online-based operations for new hires has proven helpful, Walker hasn't lost sight of the value of in-person training.
"We still bring them into the office and we social-distance classroom style," he said. "We're at a size where we can manage that pretty easily. So we're grateful for that opportunity to have some high-touch along with the high-tech. I think that's really important in these days. The process seems to work well. I think it's going to be one of our neatest outcomes from all of this."
Like TransLand, Bay & Bay Transportation quickly reached for technology resources when the virus brought on unprecedented lock-downs.
"We've had to catapult some of our technology resources," said Jackie Giefer, Bay & Bay's director of operations. "We were looking at a few things but due to the pandemic, we pushed them forward quite quickly."
Videos and online documentation enabled by eSign paved the way for virtual orientation. After going exclusively with online orientation for a week or two, the Eagan, Minnesota-based Bay & Bay settled comfortably into a combination of virtual and in-house training.
"So we do a little of both," Giefer said. "We were not able to put drivers on planes. We got them in rental cars to get them up here for in-house. But a lot of times they're coming in here with over half of orientation done. I would say that it was successful to do all orientation virtually but there still needs to be a little bit of that in-person touch, too. It just depends on the person. We can actually do both and do it successfully."
While Giefer envisions technology opening up more helpful paths in the days ahead, it will probably come at a cost of less human interaction.
"I definitely believe that there will be more paperless ways of going about things with driver bills of lading, less personnel, less interaction for the drivers with the customer, the warehouse," she said. "On the sales and inner-office side, you're looking at more virtual meetings versus face-to-face, visiting your customers, things like that."
Rebecca Brewster, president and COO of non-profit American Transportation Research Institute, said the key is finding a comfortable medium between virtual and in-person business.
"Figuring out how we get a better balance between those in-person events and conducting things virtually is important because certainly the cost savings are there from not having to travel and a whole host of positives from that that I think going forward will change how we all do business," Brewster said.
Work from home working just fine, thanks
While plenty of technology resources have been at the ready for quite some time, the pandemic forced a high tide of work-at-home employees, which will probably not recede anytime soon.
Walker, who's bullish on a work-from-home model, said it took TransLand about two weeks to enable nearly all its employees to work at home if necessary.
"Remote working is going to improve the number of days employees are available to work," Walker said. "Less sick time. Moms and dads have better access to support systems when they need to be home with sick children and they can still work. The words agility and resiliency come to mind."
Walker added that while the capability is there, TransLand has not had to deploy "100% at home and we were grateful for that."
The majority of Bay & Bay's employees are working at home, which Giefer said has been working out just fine.
"We have about 85% of our folks working at home," Giefer said. "They've gotten accustomed to working at home but they've also been very effective. I think just personally they're more at ease and so when they are talking to drivers, just from a driver manager perspective, it's more soothing because they're not in a high-paced, stressed work environment. Making sure everybody picks up phones is sometimes a challenge but we have the technology to monitor that. It's been tough, but it's been manageable and I do probably see it staying that way for quite some time."
The trend towards home-bound work appears to be growing. Recently, Ryder told Commercial Carrier Journal that their customer service performance improved dramatically after transitioning their customer support center in Roswell, Ga. to work-at-home status.
Truckers as heroes: Making the most of the moment
While the pandemic has elevated the role of truckers to heroic road warriors, leveraging that notion to a more long-term perception could benefit the industry for years to come.
"I think we need to capitalize on America's attention on how critical the trucking industry is and what a great place we are to work," Brewster said. "With so many Americans unemployed, and here is an industry that is sustainable in the face of a pandemic. This is an industry that keeps on trucking during the pandemic."
WorkHound co-founder and CEO Max Farrell said COVID safety protocols may take some of the appeal out of attending college campuses and sway more talent to trucking.
"Transportation in the supply chain is ripe for opportunity because people will realize they can jump in here and start making $50,000 to $100,000 pretty quickly, not just as a driver, but as a mechanic or some other skilled professional in this industry," Farrell said. "And so I do think this is a ripe opportunity for us to see more skilled professionals enter the workforce because that allure of being on campus, of staying in dorms and all the fun that happens with it is gone for a while."
Giefer is hopeful the pandemic will bring about other good news, though cheap airline tickets (she actually booked a $17.10 plane ticket during the pandemic) will probably not be among them.
"There are some grants out there for driver parking that's always been an issue," she said. "On the positive side, I'm hoping that we do get some positive things out of it where we do have more parking for drivers. I think there will be some positives that come out of this."
Walker, while excited about new innovations and opportunities for the industry, advised against rushing into technology at the expense of losing a vital personal edge.
"I would tell you that I'm a little concerned that we will move too much to a transactional approach to things and not enough relationship-based approach," he said. "We're so built around strong relationships and we've got to go to more high-tech but we've got to stay high-touch as well and that relationship piece of what we do from our employees to our customers to our vendors and our whole support team is critical so that's always the one thing that concerns me as we do these transformation bits."