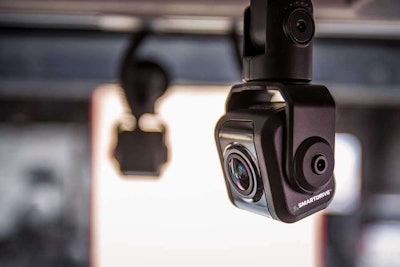 Knight-Swift Transportation (No. 4, CCJ Top 250) is replacing the video telematics system in 12,000 Swift Transportation company- and contractor-owned trucks.
The decision comes after a change in Swift management on Sept. 8, 2017, when Knight Transportation and Swift Transportation merged to create the largest truckload fleet in North America.
As part of the blockbuster agreement, Knight executives took over the administration of Swift, a company four times its size. The plan called for day-to-day operations for both companies to be run separately.
The new CEO of Knight-Swift, Dave Jackson, had limited information on Swift pre-merger and Swift's top executives had already decided to leave before the deal closed. Based on publicly available information, Swift's profits were marginal in the first half of 2017 and were not trending positively in the third quarter.
The goal from day one, Jackson said, was "to be the safest company in the truckload industry the world has ever seen. I don't think that is mutually exclusive with being the largest and most profitable. For us, we define success as being the most profitable and safest company on the road."
To that end, executives prioritized steps to "de-risk" Swift using a successful safety blueprint from Knight. "We tried to learn everything we could [about Swift] and use the data to help guide what was working and what needed to be improved," he said.
Building the foundation
Changing the driver qualifications process of Swift came first. Knight had been using hair follicle testing since 2011. On Jan. 1, 2018, all new Swift drivers had to pass an enhanced drug screening process that resulted in hiring 2,000 fewer drivers in 2018 during the strongest freight environment since de-regulation.
Hair follicle testing was a "necessary step to be serious about de-risking Swift and achieving our goal to be the safest on the road," he said.
Other top priorities included establishing driver training programs, expectations and accountability systems to foster the right culture at Swift.
"We started with the foundational part. Did we have the right people?" said Brett Sant, Knight-Swift's senior vice president of safety and risk management. "We had the right principles guiding what we were doing."
Knight executives turned their attention to safety technology. Jackson and Sant spoke to CCJ recently, about the decision they reached in early March 2020 to replace the Lytx DriveCam technology Swift had been using with SmartDrive.
Knight has been using the SmartDrive video-based driver safety system since 2016, and "we knew that experience was very positive," Sant said. Knight has seen reductions in its frequency of DOT-recordable crashes in "meaningful ways," Jackson added, and reductions in insurance and accident claims costs.
The results came not just from installing SmartDrive cameras or "external event recorders," as Knight describes the technology. The company has not been using inward, driver-facing cameras because "we don't feel like an inward [camera] adds value or creates those conditions that are really critical to our culture at this time," Sant explained.
The external event recorders are "one piece of the puzzle" and a "fine-tuning step" for a safety program, Jackson added. "It is not the first step that you do to improve the safety of a fleet, because anybody can go buy a camera but not everybody gets the same results."
One of the guiding principles of Knight's safety program is mutual trust and respect. Drivers take responsibility for their own safety.
"No one shows up wanting to have a crash or something bad happen," Sant said.
One of the main reasons Knight executives decided to invest in SmartDrive in 2016 was to create individual driver ownership in safety performance. "We wanted to create some useful and clear visibility," Sant explained, "so people can see how they are doing and improve."
"Ultimately, those principles are key to creating the outcomes we wanted to create," added Jackson, before Knight invested in "really powerful technology like SmartDrive to achieve the kind of ROI that you look for."
"Technology is not the savior," he continued, giving credit for the phrase to Good to Great author Jim Collins. "Technology is an accelerator [and] SmartDrive technology is an accelerator unlike any other we've seen."
Scoring drivers
Jackson said that Swift Transportation could have continued using the same video telematics system, but he and other executives "felt we could improve incrementally by making that change."
The user interface for SmartDrive was a factor in that decision. The dashboard "allows us to not only see but effectively quantify how people are performing to create some visibility and ownership around performance," Sant said.
Knight-Swift orders all trucks with collision mitigation, electronic stability control and other driver safety systems. The SmartDrive system monitors the data and the vehicle's ECM to detect risky driving behaviors such as vehicle speed and following distance. An advanced feature also monitors a driver's speed relative to conditions.
SmartDrive calculates safety scores and gives drivers real-time feedback. The driver scores are very focused on skills and behaviors rather than counting events, said Steve Mitgang, CEO of SmartDrive.
"The goal isn't to have 10 less harsh braking events. What you want is a driver to drive at the top of his game. Our score represents how the driver is doing, not just how much they did good or bad," he said.
As camera vision systems continue to advance to automatically detect and assess risk, Mitgang cautions that it may be a "couple years" before machine learning and artificial intelligence (AI) technology is able to replace the need for human review.
SmartDrive has been using machine learning and AI for 15 years, and computer vision for the last six. To change driver behavior, the data "has to be consistent all the time," he said. Camera vision technologies are "great at capturing and assessing risk but are not completely perfect yet."
Knight-Swift gives drivers visibility to the SmartDrive safety scores through the company's mobile driver app.
"We work really hard to keep things as simple as we can," he said, and drivers know if they are winning and making progress or increasing risk.
Knight-Swift also has safety incentives that are designed to be meaningful but not massive. "It is a very surgical type of thing," he said. "Drivers take great pride in what they do" and intrinsically want to master their professional skills.
Mitgang said the decision by Knight-Swift executives to invest in the latest video telematics technology is common among large fleets, and any size of company who wants to be "best-in-class" by creating systems for accountability and protecting their businesses from risk.