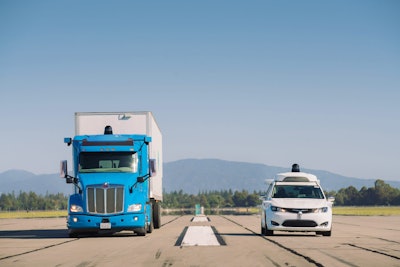 Driverless technology has lost a lot of industry buzz to electrification and, more recently, the coronavirus, but Waymo Via – the self-driving truck subsidiary of Google-parent Alphabet Inc. – notes the lack of attention doesn't reflect the amount of effort being poured into getting the driver out of a truck.
Waymo kicked off its self-driving truck program in 2017 and two years later launched a local hotshot delivery partnership with car retailer AutoNation, picking up spare car parts and delivering them to repair shops in the Phoenix area in the company's driverless-enabled Chrysler Pacifica vans. This year, the company partnered with UPS Stores in the area, using those same vans to pick up packages and deliver them to a UPS sorting facility.
Waymo's Head of New Business Development Lauren Barriere said the company's two early shipper partners have been drawn to the service because the Waymo delivery vehicles "can be ordered on demand," she said, in an industry where the efficiency of assets is problematic.
The average industry asset utilization rate is about 50%, with about 3 hours of dwell time baked in for many pickups and deliveries, compounded by up to 33% of miles that are driven empty.
As the driverless platform matures, Trucking Commercial Lead Charlie Jatt said the company's intent isn't to serve as a liaison between shippers and receivers. Its preference is to become the technology solution for all parties concerned, with a long term business model that calls for providing "driver as a service."
Waymo is forging ahead in a driverless segment that in the last two years has lost two players who were once major competitors: Uber and Starsky Robotics. Both companies shuttered their autonomous truck operations within the last two years.
However, Waymo's approach to the autonomous trucking segment is somewhat different. At least initially, Uber and Starsky Robotics were playing simultaneously the role of fleet and tech startup. Waymo rather seeks to partner with OEMs and Tier 1 suppliers to have its driverless technology integrated onto the truck, and to work with fleets to provide software services, like support for mapping and remote fleet assistance. Waymo, Jatt said, has been working closely with the OEMs, fleets and shipping customers "to develop a business model to enable an already thriving industry rather than disrupt it."
"We want to be a technology provider," Jatt said. "Not a truck manufacturer. Not a truck fleet. We don't even want to own and operate the truck assets ourselves."
Waymo's technology stack has been in development for more than a decade in the company's passenger car program, and a "big percentage of that we're able to use on trucking," said Boris Sofman, trucking engineering lead.
The company's technology suite uses a combination of cameras, Lidar and radar that have been validated by Waymo's car program but customized and tweaked to facilitate the unique challenges presented by a 40-ton, articulated, 75-feet long vehicle.
The Waymo Driver autonomous platform has logged more than 20 million miles on public roads and 15 billion miles in simulation, but has driven exactly zero real-world miles without a person in the vehicle.
"All testing happens with drivers in the truck," said Waymo's Trucking Product Lead Vijaysai Patnaik, who helped found the company's trucking division in 2017, "but we are building toward [full autonomous] technology. We will remove the human from the cab when it is safe to do so."
Waymo plans to focus its testing for the rest of this year on shipping corridors in Texas, New Mexico, Arizona and California, having already mapped, Jatt said, highways between Phoenix, Dallas, El Paso and Houston.
About 70% of all U.S. freight moves on trucks in about 400 million Class 8 shipments annually, and Waymo is anxious to get in on the trucking segment and tap the 3.7 million trucks on U.S. highways.
Waymo's deployment model calls for driverless trucks to be used in two potential scenarios: A point-to-point operation between partner facilities close to freeways where an automated truck simply goes to a depot, picks up the load and takes it to its destination, "fully automating its whole journey," Sofman said; and between transfer hubs where an automated truck could be mixed with traditional trucks and drivers, allowing pick ups and handoffs to be made between the two.
But there are hurdles to get there. Autonomous systems are good at repetitive and predictable tasks but can struggle, Patnaik said, with things "like construction zones or mechanical or software failures."
"The fundamentals of autonomous driving, and the challenges you have to solve, we feel coming out of the driverless service in Phoenix, we have a really good compass of what it will take to deploy driverless trucks," Sofman added.
The passenger car segment is significantly further ahead than its trucking counterpart in the amount of autonomous support spec'd on a vehicle, especially when it comes to redundancy in the event of a system failure. Last week, Waymo was named the exclusive global SAE Level 4 autonomy partner for Volvo Car Group. Through the strategic partnership, the companies will work together to integrate the Waymo Driver platform into an all-new mobility-focused electric vehicle platform for ride hailing services.
"If you go to an OEM, you cannot buy a (Class 8) truck that has all the safety features necessary to go [fully autonomous] driving without a human in the cab," Patnaik said. "On the tucking side, the industry is a little bit less mature. [Redundancy] is a key technology enabler that needs to be in place before we can have trucks without anyone inside them."