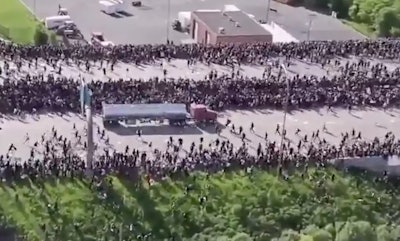 This story was originally published in July 2020.
Protests over police violence have been ongoing since the summer, with protestors and police often clashing and, occasionally, protests spilling onto highways, which could make it difficult for drivers to continue routes through cities where protests are taking place.
If a truck driver gets caught up in a situation where he or she is surrounded by protesters, such as Kenan Advantage Group independent contractor Bogdan Vechirko, fleets need to be able to tell their drivers how to handle such a situation.
In the case of Vechirko, he was found to have inadvertently driven into a crowd of hundreds of protesters on I-35 West in Minneapolis on May 31. He didn't hit anyone, and no one was hurt, but after he came to a stop, he was pulled out of his cab and beaten until some protesters stepped in to shield him until police arrived.
The best piece of advice offered to carriers and drivers is to do everything possible to avoid areas of civil unrest and find alternate routes if possible.
"Even a peaceful protest can transition pretty quickly into a violent situation," said Collin Mooney, executive director of the Commercial Vehicle Safety Alliance. "I recommend if any truckers are operating in any area where protests are gathering or plan to gather, avoid the area altogether. Not just for their safety, but for preserving the equipment and supplies as well."
The American Trucking Associations, ATA Safety Management Council (SMC) and the ATA Transportation Security Council (TSC) released a list of recommendations in the wake of the Vechirko incident that includes tips on avoiding unsafe situations, as well as advice on what drivers should do if they do find themselves in the midst of a protest.
Aside from avoiding areas of unrest altogether, ATA recommends drivers and dispatchers stay in contact when a driver is in an area of unrest to provide travel updates, contacting delivery locations for current situations and conditions, planning for road closures if protests unexpectedly move onto highways and more.
Carriers should also tell their drivers to immediately call 911 if they feel like they are in danger of being surrounded by a group of protesters, ATA recommends.
The Iowa Motor Truck Association sent a letter to members following the Minneapolis incident offering more tips for carriers and drivers. Like Mooney and ATA, IMTA urged that when a driver sees masses of people blocking the roadways, he or she should stop as soon as possible and look for ways to avoid a confrontation.
"Do whatever necessary to change directions and get out of the area," IMTA said. "If you are alert, you should be able to see these masses of people far enough in advance that you can act before being surrounded."
If avoidance isn't possible, however, IMTA offered several tips that carriers can share with drivers to keep themselves safe:
Keep your doors locked and take your seat belt off if you think you might be attacked. If your doors don't automatically lock, get in the habit of doing it manually – especially the passenger side door. If you encounter a situation where you could be under attack, remove your seat belt before being attacked so you can exit the truck more quickly if you have to. "It's [better] to take your chances on foot than be trapped inside," IMTA said.
If you have time, crack your windows and turn off the ventilation system. Windows that are down approximately a half inch are harder to break than a window that is tightly closed, IMTA said. Turn off your ventilation system to prevent smoke or teargas in the air from getting into your cab.
Beware of other forms of roadblocks. IMTA said protesters and rioters can make their own makeshift roadblocks with stolen cars parked to block a roadway, causing other drivers to stop.
Keep your dashcam on. Information recorded on your dashcam could help law enforcement if anything goes wrong. It can also help you for insurance purposes.
Call ahead to customers. A quick phone call to a customer in an area suspected of having protests can help in knowing what to do and where to go.
If hauling hazmat, call 911 immediately. Be prepared to identify your location and to tell first responders what you are transporting. This can help law enforcement protect you and everyone in the vicinity of the hazardous materials.