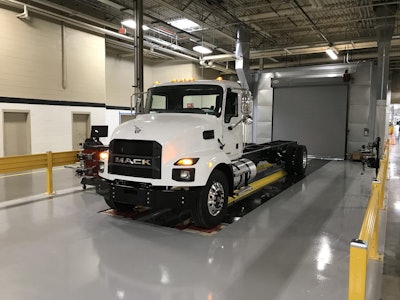 Trucking news and briefs for Tuesday, July 28, 2020:
Trade groups urge Senate to forgo liability insurance hike
A group of more than 60 trade associations from various industries penned a letter Monday to Senate transportation committee members in opposition to including language in a highway funding bill that would increase the minimum liability coverage for trucking companies.
The letter comes as the Senate Committee on Commerce, Science and Transportation works on the upper chamber of Congress' highway bill. The House's highway bill included a provision to increase carriers' minimum liability to $2 million.
"An increase in insurance requirements is wholly unnecessary, would do nothing to improve highway safety, and would have a severe negative impact on truckers, farmers and manufacturers by significantly increasing their operational costs," the group said in the letter. "Increasing minimum liability coverage would affect all businesses transporting property, not just long-haul trucking operations."
The group includes a number of state trucking associations, various agriculture associations and more.
Mack begins initial production on new medium-duty models
Mack Trucks recently began initial production of the new Mack MD Series of medium-duty trucks at its Roanoke Valley Operations facility in Virginia. Full production of the MD Series is scheduled to begin Sept. 1.
The MD Series includes the MD7, a Class 7 model with a gross vehicle weight rating of 33,000 pounds, and the MD6, a Class 6 truck with a GVWR of 25,995 pounds. Both models are exempt from the 12% Federal Excise Tax.
Full coverage of the new medium-duty models can be found here.
Be wary of increased cargo theft activity around Chicago
The Illinois State Police issued a warning Sunday of an increase in cargo theft activity along the southern Tri-State Tollway in Chicago at the Hinsdale Oasis and the Chicago Southland Lincoln Oasis.
"All vehicles and trailers should not be left unattended for extended periods while stopping at these locations, especially during the overnight hours," ISP said in a Facebook post.
ISP said it is "taking preventative measures to prevent, locate and apprehend criminals at the Oasis facilities." To help prevent cargo theft, the agency offers the following recommendations to truck drivers:
Utilize padlocks and other safety measures to prevent easy access to trailers
Don't leave trailers unattended for extended periods
Do a visual check and walkaround of your vehicle frequently
Call 911 if you see any unusual activity or offloading
ISP said it will also be upgrading lighting and increasing patrols at these locations.
Earlier this year, Illinois DOT and ISP also warned of a cargo theft ring along I-80.