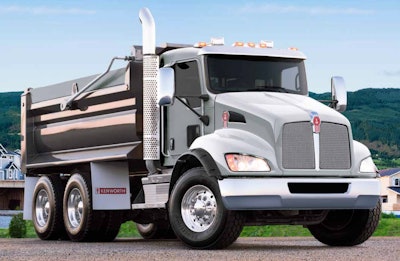 Trucking news and briefs for Thursday, Aug. 27, 2020:
Kenworth offering new options on medium-duty trucks
Kenworth is now offering a rollback flatbed option with the Kenworth AG210L single-axle rear suspension on the medium-duty T270 and T370 trucks. The axle is a 21,000-pound rated highway, two-bag, rear air suspension that features a trailing arm design.
The T270 and T370 also add CX chrome and round convex mirrors as an option. The driver and passenger side hood-mounted convex mirrors improve side view and help eliminate blind corners.
The Kenworth T270 and T370 also offer an updated version of the optional, Bendix side object detection system.
The T270, a Class 6 truck rated at 26,000 pounds GVW, is available as a straight truck and is configured for non-CDL operation. The Class 7 T370 offers a GVW range from 26,001 to 66,000 lbs. as a straight truck or tractor.
Schneider participating in Freightliner electric truck test
Schneider (No. 7 on the CCJ Top 250) has been selected to participate in the all-electric Freightliner Customer Experience (CX) Fleet, which is part of Daimler Trucks' ongoing electric vehicle development.
The carrier will test the Class 8 eCascadia to detect and address potential challenges to widespread use of commercial battery-electric trucks.
Schneider will monitor the best type of mode, freight and areas of operation for the truck's charge range; the charging requirements to help maximize the duty cycle; and facility modifications needed to accommodate electric trucks.