The Federal Motor Carrier Safety Administration (FMCSA) on Friday proposed a pilot program that would allow nonmilitary commercial driver's license holders 18 to 20 years old to operate commercial vehicles across state lines. The announcement follows an initial request from May 2019 seeking comments on the training, qualifications, driving limitations and vehicle safety systems that FMCSA should consider in developing the program.
Modeled on the DRIVE Safe Act and backed by the American Trucking Associations (ATA), the proposal would allow a limited number of CDL holders already permitted to drive inside the state the opportunity to participate in an apprenticeship program designed to further train them on interstate driving and promote enhanced safety. The pilot program would be set up to require drivers to meet safety and skill requirements that exceed current standards in most states.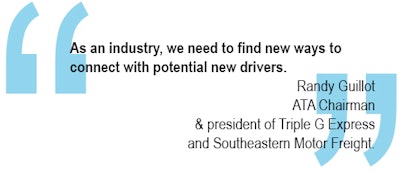 "This is a significant step toward improving safety on our nation's roads, setting a standard for these drivers that is well beyond what 49 states currently require," said Chris Spear, ATA president and chief executive officer. "This is an amazing block of talent with unlimited potential. If our freedom can be defended from tyranny around the world by our men in women in uniform, many well below the age of 21, then it's quite clear that we can train that same group how to safely and responsibly cross state lines in a commercial vehicle."
The agency's proposed program would allow drivers to participate if they fall within two categories: (1) 18- to 20-year-old CDL holders who operate commercial vehicles in interstate commerce while taking part in a 120-hour probationary period and a subsequent 280-hour probationary period under an apprenticeship program established by an employer, or (2) 19- and 20-year-old commercial drivers who have operated commercial vehicles in intrastate commerce for a minimum of one year and 25,000 miles.
The drivers in the study group would not be allowed to operate special configuration vehicles or vehicles hauling passengers or hazardous materials.
FMCSA last year began accepting applications for its pilot program for 18-to-21-year-old military truck drivers, and the District of Columbia and 49 states already allow 18- to 20-year-old CDL holders to operate in intrastate commerce. FMCSA Deputy Administrator Wiley Deck said the proposed action will allow the agency to examine the safety, feasibility and potential economic benefits of allowing 18- to 20-year-old drivers to operate across state lines, and that the move also could spark a youth movement of sorts in an industry where, according to the U.S. Bureau of Labor Statistics, the average age of drivers hovers around 55.
"As an industry, we need to find new ways to connect with potential new drivers," said ATA Chairman Randy Guillot, president for Triple G Express and Southeastern Motor Freight. "By providing young people the opportunity to fully participate in the financially rewarding and dynamic world of trucking, we will be in a better position to bring in a new generation of valuable talent to our industry."
Once published in the Federal Register, the proposed pilot program will have a 60-day public comment period.