Starting next Tuesday, Sept. 29, drivers will be able to effectively pause their 14-hour on-duty clocks for periods of several hours per shift under the new split-sleeper berth options afforded by the U.S. DOT's updated hours of service rule.
The new regs officially take effect at 12:01 a.m. ET on that Sept. 29 date (9:01 p.m. PT, Sept. 28). Though the rule also institutes other changes to existing hours of service regulations, including greater flexibility for the required 30-minute break, the reforms' most significant change is expanding the available options for drivers to split their off-duty 10-hour break. In addition to the existing 8- and 2-hour split options, a new 7-hour and 3-hour split option is available. And unlike current regs, the shorter break will not count against drivers' 14-hour on-duty time. The longer split already is excluded from that calculation.
Daren Hansen, a compliance advisor at J.J. Keller, encourages fleets to study the rule and learn how to use the changes, if they choose, within their operation. "It's still a complex rule, and it takes training and reviewing it to really figure out how to make it work," he said. "Most carriers should be able to take advantage of some of the revisions to help their productivity. It's such a diverse set of changes, it seems like there's a little something for everyone."
For drivers opting to split any duty day, they must take one split of at least 7 hours and one split of at least 2 hours, so long as both breaks total at least 10 hours. "Both of those breaks are minimums, and we did that on purpose," said Joe DeLorenzo, head of enforcement and compliance, in late August. "The last thing we wanted to do was to disincentivize rest." Both of those breaks would stop the 14-hour on-duty clock.
Breaks under the new HOS rule can obviously run longer than the 8/2 and 7/3 splits that add up to 10 hours. And if the longer of the two breaks in any split goes a full 10 hours, then drivers can reset their 14-hour and 11-hour clocks entirely.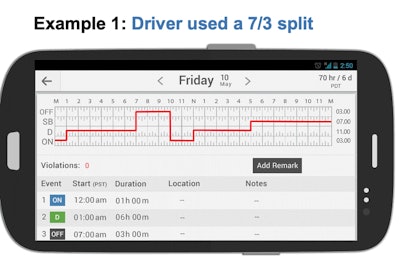 DeLorenzo provided this example (see the image above): A driver goes on-duty at midnight, and starts drive time at 1 a.m. After six hours on-duty, he takes a break for three hours – which stops his 14-hour clock. When he comes back on-duty, he still has five hours of drive-time available and seven hours of on-duty time. So, he goes back on-duty at 10 a.m., resumes driving at noon and drives until 5 p.m., at which time he's out of on-duty hours and must take a minimum seven-hour sleeper berth period to be able to go back on-duty.
The shorter split option could be longer — four, five or even six hours. But it must be paired with another break later of at least seven hours for drivers to remain compliant. When splitting off-duty time and starting a new on-duty shift, available duty and drive-time is calculated by subtracting, from the 14- and 11-hour limits, the on-duty and drive-time taken between their two most recent off-duty periods.
Another example: Say a driver starts a split by taking three hours off, then drives 5 hours and is on-duty for 7 total before taking his seven-hour break. When he comes back on-duty, he would have just 6 available drive hours, and 7 on-duty hours before he'd need to take another break of at least two hours.
But if he took that 7-hour off-duty period across the 10-hour threshold, then both drive-time and duty-time clocks reset entirely. Drivers do not retroactively lose the pause value of the shorter break — nor do they become non-compliant — if they extend their longer split all the way out to 10 hours.
Of note, on and after the Sept. 29 effective date, drivers don't have to make any changes to their duty days if they choose not to. That's simply the date the new options will become available.