Trucking news and briefs for Friday, Oct. 9, 2020:
FMCSA looking to expand under-21 military trucker pilot program
The Federal Motor Carrier Safety Administration is accepting comments on a proposal to expand its pilot program that allows 18-20-year-old drivers who have received heavy vehicle training in certain Military Occupational Specialties (MOS) while in the military.
The agency in its July 6, 2018, notice finalizing the details of the program included seven MOS for the pilot from four military branches. FMCSA is now proposing to add nine more specialties from the U.S. Army and Marine Corps that also require heavy-duty vehicle training.
FMCSA says adding the nine additional MOS to the pilot would open the program to approximately 30,000 more drivers between the ages of 18 and 21 who are eligible to participate in the Under-21 Military CDL Pilot Program.
Comments on the proposal can be made here through Nov. 9.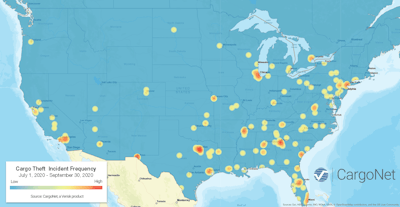 Third-quarter cargo theft sees year-over-year increase
Cargo theft recording firm CargoNet recorded a 23% increase in theft activity in the third quarter of 2020 compared to the same period in 2019, based on numbers it received from law enforcement agencies and insurance companies.
The firm recorded 223 cargo theft events in 2020's third quarter with an average value per theft of $151,452 for an estimated total of $33.77 million in stolen cargo across the U.S. and Canada.
Texas reported 65 cargo thefts in the quarter – a 210% increase from the third quarter in 2019, CargoNet reports. Florida and Georgia rounded out the top three states. The firm notes most states in the top 10 reported year-over-year increases in theft except California and New Jersey, which reported decreases of 45% and 48%, respectively.
Trailer burglaries were the most common theft types reported to CargoNet, but the firm also noted increases in theft of loaded trailers and fictitious pickup.
Targeted commodities in third-quarter 2020 were heavily influenced by the ongoing COVID-19 pandemic, CargoNet said, with an increase in theft of in-demand products like household cleaning supplies and personal protective equipment.
N.J. man sentenced for HHG moving fraud
Maximo Beras, the former owner of a New Jersey-based HHG moving company, was sentenced to time served, three years of supervised release, a $200 special assessment and was ordered to pay $75,193 in restitution for his role in a moving scheme, according to the Department of Transportation Office of Inspector General.
OIG said that Beras pleaded guilty in 2018 to two counts of conspiracy to commit wire fraud and also accepted responsibility for his role to obtain money from customers of various moving companies through false and fraudulent pretenses.
According to OIG, Beras and his co-conspirators provided low-cost estimates for HHG moving services, then held the goods hostage until the customers agreed to pay exorbitant fees. He then set up chameleon companies, which appeared to be legitimate companies but were established to extort customers, OIG added.