Trucking news and briefs for Thursday, Oct. 15, 2020: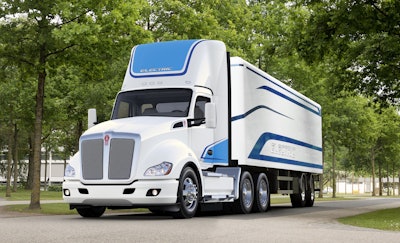 Kenworth launches battery-electric T680E
Kenworth announced Wednesday the launch of the Kenworth T680E, the company's first Class 8 battery-electric truck.
The truck is now available for order from Kenworth dealers in the United States and Canada and will enter production in 2021. It is available as a day cab as either a tractor or straight truck in a 6×4 axle configuration. It's also offered in 54,000-pound and 82,000-pound gross vehicle weight ratings.
The zero-emission T680E has an estimated operating range of 150 miles, depending on application. The truck is equipped with 536-hp continuous power and up to 670-hp peak power and 1,623 lb.-ft. of torque.
The truck features Meritor's Blue Horizon 14Xe tandem electric powertrain and uses a 2-speed integrated transmission and has a top speed of 70 mph. It uses a CCS1 DC fast charger with a maximum rate of 120kWh and estimated 3.3-hour charging time.
FMCSA extends comment period on broker transparency petition
The Federal Motor Carrier Safety Administration is extending the comment period on petitions from the Owner-Operator Independent Drivers Association and another group requesting that brokers be required to automatically send electronic records of each transaction record to carriers within 48 hours of loads being completed and prohibit brokers from including provisions in contracts that require carriers to waive their rights to transaction records.
The comment period was set to expire Oct. 19 and has now been extended a month to Nov. 18. Comments can be made here.
FMCSA announced last week it is holding a listening session on the subject on Oct. 28. The extension of the comment period, FMCSA says, will give interested parties additional time to submit their responses to the petitions.
Nissan shuttering production of NV commercial van lineup
Nissan will end production of its NV commercial van lineup next summer as the re-tools its commercial offerings.
Sales of vans in the U.S., through established Business Certified Dealers (for NV Cargo and Passenger), will continue through calendar year 2021, or until supply is exhausted.
Nissan is in the middle of an aggressive product offensive in the U.S. – revealing 10 new products in 20 months – with six coming to showrooms by the end of 2021, of which all will be available via its Business Advantage – Nissan's new commercial vehicle facing business push.
"Success in North America is critical to the Nissan NEXT transformation plan, and we are concentrating on our core business and products," said Michael Colleran, senior vice president, Nissan U.S. Marketing and Sales.
Dropping the NV, which was introduced in 2011, would seem to remove Nissan from the pickup and delivery, final mile and many light construction segments, spaces currently dominated by Ford's Transit commercial van. However, Colleran, noted "from three Nissan Frontier pickups for a pest-control business to several Nissan Rogues for pharmaceutical representatives to make doctor calls, Nissan provides customized vehicle solutions for nearly anyone."