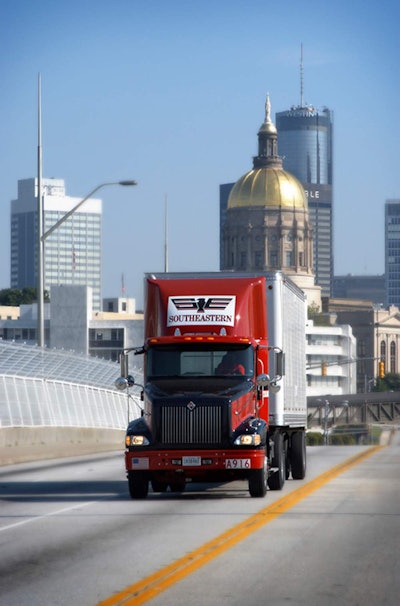 Trucking news and briefs for Wednesday, Oct. 21, 2020:
More indictments announced in Louisiana staged-accident fraud scheme
The U.S Attorney's Office for the Eastern District of Louisiana announced Oct. 16 that it has charged four more people in a widespread staged-accident fraud scheme, bringing the total to 32 people charged.
Anthony Robinson, Audrey Harris, Jerry Schaffer and Keishira Robinson, all of New Orleans, were charged in a three-count federal indictment with one count of conspiracy to commit mail fraud and two counts of mail fraud.
The charges stem from a scheme to intentionally stage car cashes with tractor-trailers in order to defraud trucking and insurance companies through fraud, the U.S. Attorney's Office says in a press release.
According to the indictment, an unnamed co-conspirator, Harris, Schaffer and Keishira Robinson allegedly intentionally collided with a tractor-trailer on Oct. 13, 2015, in New Orleans. The co-conspirator was then picked up from the collision site by Damian Labeaud, who pled guilty to a previous indictment in the case. Anthony Robinson, who had allegedly been in Labeaud's vehicle, then got behind the wheel of his own vehicle to make it appear he had been driving at the time of the staged accident, the indictment says.
The passengers were then allegedly referred to an attorney who paid Labeaud and the co-conspirator to stage accidents. All of those named in the indictment were treated by doctors and healthcare professionals at the direction of their attorneys. Anthony Robinson, Harris and Schaffer underwent surgeries, the indictment adds.
According to the indictment, the victim trucking and insurance company paid approximately $4.7 million for the fraudulent claim associated with the staged accident.
Southeastern Freight opens new South Carolina facility
Southeastern Freight Lines announced the opening of a relocated service center in Piedmont, South Carolina, serving the greater Greenville region.
The new service center, located at 515 Sagitairus Way, consists of 207 dock doors, a large appointment warehouse and 230 associates. It is housed on 110 acres, allowing for future growth, and features a Fleet Services Shop as well as a large open office space and a conference room for meetings and training.
Originally located inside an old railroad warehouse, the Greenville service center opened for business in 1959 with only 10 dock doors and 16 associates. Since the service center's development at its most recent location of 710 Mauldin Road in 1964, the facility expanded five times throughout the past 55 years, growing and improving with every addition.
Southeastern Freight Lines, a privately-owned regional less-than-truckload transportation services provider founded in 1950, specializes in next-day service in the Southeast and Southwest and operates 89 service centers in 13 states, Canada and Puerto Rico.
Thermo King expands temporary storage capabilities for COVID-19 vaccine
Thermo King announced recently has expanded its temporary storage services to meet the unique requirements of global pharmaceutical companies developing the COVID-19 vaccine.
The company says pharmaceutical companies in final-stage clinical trials anticipate they will need strict temperature controls to protect their products, down to temperatures as low as -70 degrees Celsius. Thermo King says its products and services can ensure this from air transport to marine, rail, trailer, last-mile delivery and at storage points along the way.
Thermo King adds that it has helped customers identify ways to maximize the range of dry ice, which is often used in vaccine transport and storage.
"Considering the urgent, global need for a COVID-19 vaccine, the world can't afford breaks in the cold chain," said Dave Regnery, president and COO of Trane Technologies, parent company of Thermo King. "Our new Cold Storage Solutions can maintain temperatures of -70 degrees Celsius for an extended period of time, can be leveraged to help reduce degradation of a vaccination, and most importantly, could prevent vaccine 'deserts' or lack of accessibility."