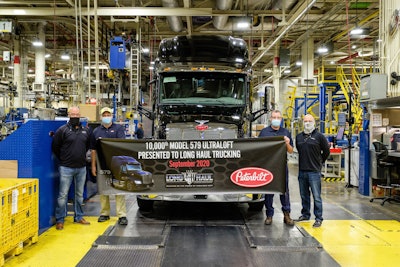 Trucking news and briefs for Tuesday, Oct. 20, 2020:
TIA announces new leadership
The Transportation Intermediaries Association, representing brokers and other third-party logistics providers, has named a new leader in the wake of its longtime head Robert Voltmann stepping aside in early June and Douglas Clark filling in on an interim basis.
Washington, D.C., native Anne Reinke has been named President & CEO effective Oct. 26, the TIA said.
Reinke will assume day-to-day leadership of the organization, while working in tandem with the group's board of directors and other stakeholders. Reinke joins TIA following two years as Deputy Assistant Secretary with the U.S. Department of Transportation and 16 years with CSX Corporation.
Her appointment will be effective just two days prior to a public listening session on the subject of petitions for rulemaking to the Federal Motor Carrier Safety Administration on the issue of carriers' right to review the record of a brokered transaction, codified in 49 Code of Federal Regulations 371.3(c). Trucking interests, including the Owner-Operator Independent Drivers Association, want to bolster the right with prohibitions on brokerage contract clauses requiring truckers to waive it, among other things, while TIA's own counter-petition of sorts to the agency was posted to the Regulations.gov website late last week.
In it, TIA asks for regulatory guidance on just what constitutes a "dispatch service," in an effort to prevent what it says are unscrupulous actors among some calling themselves such. The group also asks for rulemaking to remove carriers' right to review required records of a brokered transaction entirely. The petition argues the reg has outlived its purpose as deregulation of pricing throughout much of trucking has taken hold over four decades now. The petition itself was posted to Regulations.gov as of Oct. 15, after having been filed with the agency in early August, and you can download a copy at this link.
To participate in the October 28 listening session, register for the virtual event via this link.
Peterbilt delivers 10,000th 579 UltraLoft unit
Peterbilt announced earlier this month it has delivered its 10,000th Model 579 UltraLoft unit to Long Haul Trucking, out of Albertville, Minnesota.
"To receive the 10,000th Model 579 UltraLoft is a great honor for us at Long Haul Trucking," said Josh Hainstock Long Haul Trucking's vice president of Fleet Operations. "Uptime is what Long Haul Trucking and Peterbilt are all about. It's also a big part of the reason we have 140 Peterbilt 579s in our fleet."
The fleet addition came on top of 140 579s already operating in the company.
The UltraLoft 579 is distinguished by ample interior storage capacity — 70 cubic feet all told, featuring multiple compartments, a wardrobe closet and several cubbies. A fold-away ladder provides easy access to the upper bunk and disappears when not in use. The integrated sleeper provides a 200-lb. weight savings and up to a 2% aerodynamic enhancement over Peterbilt's discrete sleepers, the company says, equating up to a 1% fuel efficiency improvement to the bottom line.