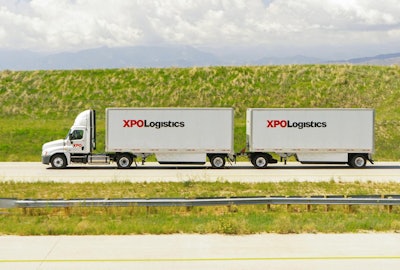 Earlier this month, CCJ had the chance to talk with Drew Wilkerson, president of North American transportation at fleet and brokerage giant XPO Logistics, about how the company weathered and adapted to 2020's hurdles. Wilkerson detailed the steps XPO took to protect drivers and other personnel from the COVID-19 virus while balancing a fast-shifting supply chain and freight demand:
CCJ: Hey, Drew. First off, the COVID-19 pandemic has been such a through-theme in everything that's happened this year. For fleets, that meant impacts to business as well as, obviously, dodging the disease itself and trying to protect drivers and other personnel. What happened at XPO this year with the pandemic? What has changed at the company with everything that's happened this year?
Drew Wilkerson: Over the past eight months, the pandemic has changed life as we know it. Transportation in general has always been an essential business. We're always the first ones in after a natural disaster. So when the pandemic hit, we wanted to step back and focus on three things. The first thing we focused on was employee safety and wellbeing. The second thing was continuing to keep our operations up and running. And the third thing was helping our customers create solutions and adjustments in their supply chain and transportation management.
People was the most important thing to us. When you're talking about terminals and warehouses in our own supply chain, we had to reconfigure how we were doing everything. We made sure we were going well beyond the CDC guidelines. We had the social distancing. We had the PPE. We set up sanitizing stations. We had to do that to make sure that our essential workers were protected.
For workers that were able to, we shifted a lot of people overnight to go into work from home. Overnight there were thousands of people who were able to go from working in the office to working from home with customers and carriers and do it in an efficient way.
For all of our employees, for XPO in general, we focused on making sure they were physically and mentally healthy. We offered pandemic sick leave, negative PTO, free counseling services, 24/7 access to doctors, free COVID testing, front-line employee appreciation efforts. These were all things we wanted to do to make sure they were protected physically and mentally.
CCJ: For drivers specifically, what steps did XPO take to ease any fears or concerns about being on the road in the pandemic?
DW: There's two prongs to that. The first is the drivers who are our employees. For those people, it goes back to making sure they had the PPE gear, that they're doing social distancing. We're having our terminals deep cleaned regularly so they feel safe as they're going about their day-to-day jobs.
The second part is the independent contractors – drivers that are not XPO employees but that partner with XPO on a number of shipments. That really leans into what we've done with XPO Connect. We built a tool that's made it easy for them to do business with us. A tool that gives them updates on what's going on around the country – whether they need to change routes because of a traffic jam or bad weather. Helping them locate the nearest Subway. Telling them where they can buy the cheapest fuel.
We even built a COVID dashboard [in XPO Connect], that lets them see where the [virus] hot spots are, down to the county level.
Another thing we wanted to focus on was contactless deliveries, both for our independent contractors and for the end customers. So we focused on that on the truckload side and the last mile side. On truckload, we wanted to make sure that the independent contractor and the customer were not having face-to-face interaction and doing everything over the phone. On last mile, it means doing curbside delivery and sign off or asking, "Hey, what area of the house do you want us to go into?" to avoid having face-to-face interaction. That's been extremely important for us as we're going through COVID.
CCJ: As far as dealing with customers' shifts in their freight – both the types of freight, the geography, customers that may have had more freight than anticipated versus those that had less. How has XPO handled that this year?
DW: On the customer side, it was important to make sure we could shift with our customers. It was about being able to adjust and flex our capacity up or down with customers as needed.
We have a customer, Ford Motor Company — they make automobiles as we all know. They shifted to making PPE gear like masks, gowns, face shields and ventilators. And we were the primary provider in making sure all of that got across the country.
The overall spike we're seeing in e-commerce – we absolutely felt that and are continuing to feel that. E-commerce, food and beverage, consumer goods – we saw all of those spike. For e-commerce, specifically, we knew there would be a big boom in the next few years. But we saw it happen overnight in the middle of COVID. For example, we saw a huge boom in fitness equipment. We saw it with people ordering furniture into their homes.
On the opposite end of that, we saw with our manufacturing customers where they didn't have the volume they thought they would have. They were worried that there were going to be carriers who walked away from them because they didn't have the volume and they saw booms in other sectors. It was important to us to honor those commitments to manufacturers and give them the capacity they needed.
CCJ: Tell us more about XPO Connect – is that part of a response to what happened this year or was it something that existed prior to the pandemic?
DW: We launched it in 2018, and it's become part of our DNA. XPO Connect is our digital freight management platform. It gives shippers a single-source for visibility across all modes of transportation and it gives it to them in real-time. It lets our customers identify where there might be opportunities for time and cost savings. For some shipper customers, speed is important, and for some customers cost is important.
For truckload, [shippers] are able to get real-time quotes on both spot market and on a contractual nature. We've spent a lot of time and effort and energy around building algorithms around our pricing, and it's something that's paying off for both our customer and our carriers.
CCJ: How does XPO Connect fit into the marketplace of digital freight brokerages? It's becoming an increasingly crowded field, with new entrants, such as Uber Freight, Convoy and others, as well as with companies like Amazon, J.B. Hunt, C.H. Robinson.
DW: It's about being easy to do business with. We were a pioneer in doing loads digitally. We've got over 65,000 carriers registered on XPO Connect and over 1,000 shippers. And we have such a volume of loads. We're able to offer carriers what they're looking for — a load that gets them home, a load that gets them back to a core customer load. We're able to offer them the ability to go online and accept or decline a load. We have a tool called Intelligent Lane Assignment that offers carriers loads as they come out – that's something we're able to do with no human interaction. Ninety percent of our orders have some sort of automation.
CCJ: Looking ahead to 2021, Drew, what's on deck? How has the pandemic and the corresponding issues we've discussed impact XPO going into next year?
DW: Obviously, COVID has increased the awareness around the need for contactless delivery, and we see that continuing. As far as what's going on in the marketplace – I don't have a crystal ball. But I can tell you things we're seeing right now. We've seen e-commerce spike, and my opinion is that we're in the early innings of that. We've done surveys with our customers' customers – end consumers – and we know that post-COVID, 94% of people said they're more likely to buy things online. Things like apparel, groceries, furniture, personal care, exercise equipment – those were all things people said "Hey, I'm more likely to buy that online now."
The next piece of that survey that we found out is 55% of people have already started a do-it-yourself project at home. So the homebuilding companies have seen business rise.
Automotive – as COVID hit, we saw a lot of automotive manufacturers shut down. What we're seeing now is automotive volumes have come back to pre-COVID levels. That's a positive sign as we look into 2021.
CCJ: Thanks, Drew. We appreciate you talking to us.
DW: Good talking to you.