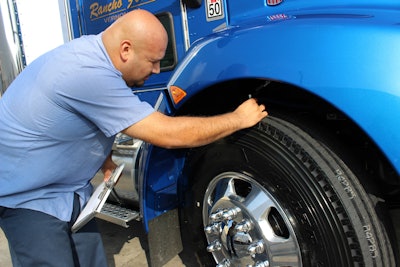 If you are operating a fleet, you probably are aware there are hundreds of variables to consider in developing a tire cost per mile (CPM) comparison. I have surveyed fleets and owners trying to nail down an accurate algorithm to benchmark tire costs and have learned that unless you're comparing the same vehicle with the same loads, mileage, and operation, the analysis will be skewed. Small operational variances can have a major impact on the results.
One benchmark that people commonly refer to is the American Transportation Research Institute's An Analysis of the Operational Cost of Trucking. This analysis is updated every year, and the 2019 Update covered 126,000 trucks and tractors and 461,000 trailers. The analysis reported an average a 3.8 CPM tire cost for the last two years.
While you might think that is a good number for you to use to compare your own tire CPM, consider this: The survey was conducted on a diverse group of vehicles, applications, mileages, ages, etc., and the data was then averaged. The results are based on small and large fleets, local, regional, and line haul (city versus highway driving), various industry segments (food wholesale, fuel hauler, furniture delivery), some retail and some commercial pricing, some in-house tire work and some third party, and some trucks with original tires versus others with retreads.
The average fleet age for trucks in the survey was 8.5 years, tractors 4.4 years, and trailers about 8.5 years.
Unless your fleet looks exactly like the composite of the fleets used in the analysis, chances are your CPM may not match. I am not saying the ATRI is not a good benchmark but given the number of variables in the analysis, how can fleets compare their tire costs to the benchmarked average? The challenge is whether you can break the data down to make a cost comparison to your specific fleet. That is much more difficult than it may seem.
On top of all that variability, when fleets attempt to benchmark, or even capture their tire CPM, they often overlook two important factors: The cost of the original set of tires and the value of tires required for the second buyer of the truck.
Let's look at the cost of the original tires. Many fleets do not include the original set of tires in their cost analysis. Not only is the value of the first set of tires important, the percent of a vehicle's life that set represents can greatly impact the comparison to the benchmark.
For example, if you have one unit running 100,000 miles per year with the original set of tires lasting two years of the vehicles eight-year life, if the cost analysis does not include the original set of tires, you may be underestimating tire CPM by 25%. You have another unit running 30,000 miles per year with the original set of tires representing 50% of the tire cost for the vehicle's eight-year life. If the cost analysis does not include the original set of tires, you may be miscalculating tire CPM by 50%.
The second factor is the value of tires required for the next buyer. If efficiently managed, you should sell vehicles with the minimum tire requirements required for the next buyer. For example, if the resale buyer requires 50% rubber and a maximum of two retreads, you should swap tires or run tires to those minimum requirements. Conversely, if a resale buyer requires original tread tires at 75% tread, and then you purchase original tires for that sale condition, do you factor those tire costs into your vehicles cost per mile? The first and last set of tires can skew a cost per mile comparison considerably.
Costs benchmarks are important as comparisons and can tell you a lot about your tire programs. However, they are merely a starting point for comparison. Your evaluations need to also consider the many assumptions and variables that went into determining the benchmark number. And then you need to keep that in mind when comparing your own fleet's tire CPM to the benchmark.
If you want to know what your tires are truly costing you, and how you compare to the benchmark average, spend time doing in-house tire testing, ensure tire pressure is correct for the weight carried, develop a casing management program, spec the right tire for the application, hold tire training sessions on a regular basis, conduct regular preventive maintenance on tires, and follow a thorough root cause analysis program.
If you follow those steps, you will know what your true tire CPM is, and that is all that really matters.
Joe Puff is the vice president of truck technology and maintenance for NationaLease. He has more than 35 years of experience in complex sales and fleet operations, including extensive experience in commercial vehicle maintenance. Joe is responsible for advising NationaLease members and the National Account team of new truck technology, industry trends, and maintenance best practices.