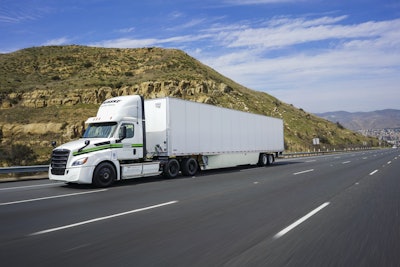 Class 8 electric tractors are quietly making history in California though predictably, as with most cutting-edge technology, there's been some bumps along the way.
Commercial Carrier Journal talked to three trucking companies cast into challenging and rewarding roles as pioneers alongside deeply invested truck manufacturers, all of whom are eager to learn the strengths and weaknesses of some of the world's largest battery-powered trucks.
In Northern California, GSC Logistics is operating electric BYD 8TT tractors while NFI and Penske Truck Leasing are putting pre-production Freightliner eCascadias to work in Southern California.
All three companies continue to generate valuable data at a time when the state—home to the nation's most productive shipping ports—has mandated the transition to zero-emission commercial vehicles starting in 2024. By 2045, all new trucks and vans sold there will have to be zero emission.
As a result, more carriers are now lining up to get the jump on zero emissions which can prove to be a tall task for all concerned.
"We've got all kinds of inquiries, more than we can handle and we just try and work through them the best we can," said Paul Rosa, senior vice president of procurement and fleet planning at Penske Truck Leasing.
"In some cases, it's more inquisitive and they want to try it out for a day or so," Rosa continued. "Well that's not the easiest thing to do because we don't make it available like a rental vehicle. This is a very specific one that requires driver orientation, safety, orientation and so on. You invest a decent amount of time for anyone that will be going into it so it's not meant for a one-day, or two-day trial. It's meant for many weeks if not a month or more."
As with other alt fuel commercial vehicles, grants play a major role in electric truck acquisition particularly in California where the state has rolled out generous incentives to help fleets meet upcoming deadlines.
"When we look at mass adoption of electric trucks, the only way it will work right now, and the only way we're able to do what we're able to do, is because of the incentives the State of California has and the State of California knows what it's doing when it comes to certain things like this," said Jim O'Leary, vice-president of fleet services for NFI.
Utilities have also gotten on board as well to help fleets make the transition to charging their trucks instead of fueling them up with internal combustion fuels, namely diesel. The critical role utilities play in rolling out electric trucks will only grow as more EVs hit the road, especially Class 8 trucks that can quickly max out a carrier's power supply.
"The problem we're going to have adding trucks is really finding more electrical power," said Brandon Taylor, GSC Logistics director of transportation which is operating three BYD 8TT tractors at the Port of Oakland. "We're tapped out at our building. Our building is an old World War II warehouse. There's a lot of power running into it but our panel is tapped out."
When it comes to work, electric trucks still can't come close to competing with diesel. Of course that could change in an instant if the right battery technology come along. For now, the key to success is keeping these battery-powered beasts on a short leash with loads they can handle. And with such a diverse range of products coming out of California's bustling ports, there are a lot of loads that make sense.
"There was going to be some payload that was going to be compromised but you identify the use cases," said Rosa. "It's not that a customer had to worry about a reduction in payload. It was find the right customer or the route and the load of the customer that matches what the capabilities are and that's how we approached it. That's how we've approached every customer that has gone into that and every future customer. We have to work within the parameters. And that has worked out quite well."
GSC takes on the mountains. Last fall, GSC Logistics in Oakland, Calif. made truck history after driving a loaded container up the Altamont Pass through the Diablo Mountain Range with an electric BYD 8TT.
It was a roughly 50-mile trip along an 8% grade from the Port of Oakland to Tracy, Calif. that took GSC to the all-important Central Valley near Interstate 5, a major trucking hub where GSC has several customers.
Click here to read more about GSC Logistics' experience with BEVs.
Penske hauling in plenty of data. Penske Truck Leasing made headlines at the Advanced Clean Transportation Expo in Long Beach, Calif. in April of 2019 when it unveiled what's believed to be the first heavy-duty electric charging stations in the U.S. Fourteen high-speed chargers were opened across four of its facilities in Southern California.
Electric trucks followed including Freightliner's Class 8 on-highway eCascadia and their medium duty box truck eM2 106. Penske's partnership with Freightliner's parent company Daimler Trucks North America brought the companies together in 2018 to test and improve electric trucks in real world conditions. Daimler's Innovation Fleet provided Penske with 10 eCascadias and 10 eM2s. So how have the trucks been performing?
Click here to read what Penske it getting from its electric Freightliners.
NFI plugging in plenty of trucks. NFI has jumped in deep with electric trucks. In addition to 10 eCascadias the carrier is operating 27 Kalmar electric yard tractors. Daimler's Innovation Fleet supplied the eCascadias which have been busy operating out of NFI's 15-million square foot warehouse campus in Chino, Calif.
"We just surpassed, probably close to 220,000 miles combined in that fleet," O'Leary said. "Over 1,500 trips to the ports of L.A. and Long Beach done with the electric vehicles. Zero emissions. We're proud of that. We actually just took, but they're not in service yet, two of the electric VNRs by Volvo. We are about ready to start running those into the ports of L.A. and Long Beach as well."
Click here to read what NFI has discovered about payload's impact on vehicle range.
TCO and charging: works in progress
Electric vehicles are typically praised for lower maintenance costs and for costing less to charge up versus filling up on conventional fuels.
For GSC, maintenance and charging costs for those three BYD 8TTs have proven be a real bean counter delight.
"Maintenance has been real simple, almost non-existent to be honest with you," Taylor said. "The only oil changes needed are differential changes and they're calling for that every 3 or 4,000 miles. From what we've seen, even 3 to 4,000 miles is really not necessary on the differentials. We've done it as a pre-maintenance just to see how the differentials are reacting and we've haven't seen any issues with the fluid coming out of those differentials. There are few anti-freeze fluids and a couple of real low maintenance fluids that need to be just checked and topped off. They don't need to be changed."
Charging up the trucks versus filling up on diesel has also brought more good news for GSC. The trucks charge overnight during off-peak hours which results in a lower charge rate. However, should the need arise, their one 80-kilowatt charger can fully charge a truck in two hours while their two 40-kilowatt chargers take about four hours.
"We're seeing about a 50% decrease in cost," Taylor said. "We were spending upwards of $400 a week per truck on fuel. I don't think we're spending more than $200 on electrical."
All told, GSC has seen significant savings in leasing the BYD tractors with state grants versus leasing diesel trucks.
"It's been a nice cost savings for us," Taylor said. "We're only running three tractors, but still, for a company like GSC, it was a nice cost savings."
At Penske, Rosa said it was "too early in the game" to know how their eCascadias measure up in total cost of ownership when compared to their diesel counterparts.
"The only thing that we're aware of right now, well actually there's two things: tires, we're going to have to be very careful with and brakes are going to live a lot longer. Those are the two things we know right now," Rosa said. "Beyond that, to say here's what you spend on normal oil intervals or here's what you go through with other scheduled maintenance, or here's what you would experience at a two-year or a four-year life, a lot of that is unknown from the cost side."
The trucks' quick acceleration "is amazing which we have to be careful with because there's incredible torque," Rosa said, which can lead to "the downside of it. You're burning the tires off if you don't handle it the right way."
O'Leary said the tires mounted on the eCascadias at NFI have also exhibited "irregular wear that is concerning."
Commercial Carrier Journal reached out to Daimler for comment on eCascadia tire wear.
"We can address this in a number of ways for our series-produced trucks whether by fine-tuning software, axle spacing, axle loading or realignment," said Dr. Andreas Juretzka, senior lead of e-Mobility at Daimler Trucks North America.
Michelin, which has been involved in the pre-production eCacasdia fleet trials, issued the following statement: "Electric powertrains are one of many new technologies on the trucking horizon. While we cannot comment on future product development at this time, Michelin will certainly work to be on the leading edge of commercial truck tire advancements."
Though tire wear is a concern for both Penske and NFI, the greater concern is with charging.
O'Leary recently told CCJ that two of his chargers are down and that they've had ongoing problems with the chargers not performing correctly during off-peak times when charge rates are at their lowest.
"I've got ten tractors for five chargers," O'Leary said. "Well, if two of them are down, I've got ten tractors for three chargers now. So, am I running into problems where my vehicles can't charge? Yes. Am I running into problems where I have to think about my next project where I've got to spend more money on more chargers to make sure that there's always charging available? Right."
Rosa said fleets need to carefully consider charging requirements before acquiring an electric truck.
"Charging is definitely an interesting challenge that I think requires more attention by anyone out there thinking of an electric vehicle," he said. "Get the infrastructure, get the charging solution done now. If you have any notion of having any of these electric vehicles. They're going to start to mature in the next year or two and beyond, so get your charging infrastructure figured out today."
Taylor said while GSC has been able to meet the power demands for three electric trucks, they're not equipped to handle anything more.
"For us to put in more chargers, they've got to bring in more power off the lines," Taylor said. "That's going to be the big hold-up for anybody expanding their fleet is where to get all the power and infrastructure."