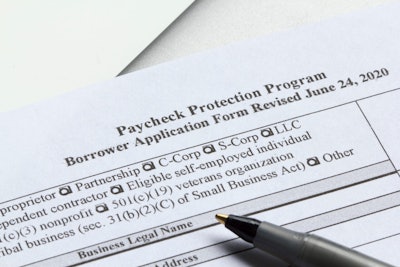 A post-election political football finally crossed the goal line in late December when Congress approved a $900 billion COVID-19 relief package, including $284 billion for another round of Paycheck Protection Program (PPP) funding.
The second round of PPP includes provisions for new loans and the ability to secure a second PPP loan for qualified small businesses.
According to data compiled by CCJ from SBA listings, upwards of 100,000 trucking companies received funds ranging from loans of less than $10 (yes, ten dollars) to some in excess of $5 million in the first round of PPP. Local and long-haul trucking companies snagged as much as $12 billion, more than 2% of all the PPP cash handed out by banks across the United States. Those listings exclude household goods movers.
Nearly 11,000 trucking companies (10,872), as categorized by SBA's North American Industry Classification System, received PPP loans for amounts greater than $150,000, according to disclosure documents released by the U.S. Treasury Department and SBA in June.
Among the companies receiving $150,000 or more during PPP's first round earlier this year, general freight companies collectively snagged between $3.1 billion and $7.4 billion. Long-haul truckload carriers received between $1.3 billion and $3 billion, leaving between $176.7 million and $411.9 million for less-than-truckload (LTL) carriers and between $1.68 billion and $4 billion for local carriers.
Long-haul specialized fleets altogether received between $371.75 million and $870.7 million, while local specialized carriers received between $658.25 million and $1.6 billion.
Loans of more than $150,000 represented nearly 75% of total PPP dollars approved earlier this year, but only a fraction of the number of actual loans. According to SBA, about 87% of all loans totaled less than $150,000. More than 91,000 trucking companies raked in just more than $2.1 billion in loans under $150,000. Texas led the way with $219 million, with California ($180 million) in second. Illinois (more than $164 million) rounded out the Top 3.
Carriers who received funds during PPP's first round are eligible for an another loan under the new relief plan, but "second draw" PPP loans are limited to businesses that employ no more than 300 employees (a reduction from 500); have used all of the first PPP loan funds or have plans to use it; and quarterly gross revenues were at least 25% lower than the same quarter 2019. Criteria for Second Draw eligibility are not applicable for first-time applicants.