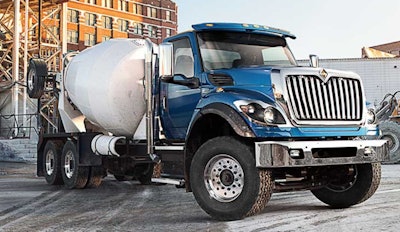 Trucking news and briefs for Monday, Jan. 11, 2021:
Truck inspectors advised to not hold up COVID vaccine shipments for inspections
A bulletin issued Friday, Jan. 8, by the Commercial Vehicle Safety Alliance advises inspectors to not hold up trucks for inspection that are transporting the COVID-19 vaccine.
"The COVID-19 vaccine is temperature sensitive," the bulletin says. "Every effort should be made to get the vaccine to its destination. Shipments should not be held up for an inspection, unless there is an obvious serious violations that is an imminent hazard."
The notice adds that the vaccine is kept cold using dry ice, which can be hazardous to inspectors and first responders.
The guidance notes that in the case of a crash or other hazmat/dangerous goods incident, law enforcement should follow their local standard operating procedures.
More than 17k International trucks recalled
Navistar is recalling more than 17,000 International trucks due to a potential issue with the engine control module software in the affected trucks, according to National Highway Traffic Safety Administration documents.
The recall affects approximately 17,213 of the following International models:
2014-2020 International DuraStar
2020-2021 International HV
2019-2021 International MV
2015-2018 International WorkStar
In the affected trucks, when the parking brake is applied and the automatic transmission is still in the drive or reverse position, and the stationary PTO switch is engaged by the operator, the engine may rev and overcome the parking brake's ability to keep the vehicle from moving, Navistar says.
Navistar will notify owners, and dealers will update the parameters in the Cummins ECM for feature codes 12VXT or 12VXU that enables the PTO neutral interlock for free. Owners can contact Navistar customer service at 1-800-448-7825 with recall number 20510. NHTSA's recall number is 20V-810.
J.J. Keller acquisition fast-tracks entry of video safety startup
Safety and regulatory services provider J. J. Keller & Associates has acquired startup company VideoProtects to expand its technology product offerings in the realm of video-based driver safety systems.
VideoProtects was founded in 2016 by Mike Nalepka to be a consultant with fleets and technology providers about deploying video safety technologies. Nalepka helped PeopleNet launch its Video Intelligence platform in 2016, and previously worked for TMW Systems, DriverTech and McLeod Software. About 18 months ago, VideoProtects started to develop its own cloud-based video driver safety platform. Nalepka, along with Co-Founder and President John Moscatelli and Chief Technology Officer Gene Emory, developed the platform to be scalable for all types and sizes of businesses that operate fleets.
Prior to the acquisition, VideoProtects had forged a relationship with telematics provider Geotab with plans to make the new platform available to Geotab resellers to offer it to fleets as an integrated product offering.
The platform will be using "trigger" events captured by Geotab's device in a vehicle, such as speeding and swerving. Data from these trigger events is immediately sent to Geotab's cloud and through application programming interfaces (APIs) the capture of video from cameras in vehicles happens in real time. Video captured from camera devices connected to the VideoProtects platform will reside in the Geotab cloud, rather than in a separate server. This model "is a big difference between what other competitors are doing," he said, for "the customer of Geotab to have one single source of data security."
Following the acquisition by J.J. Keller, VideoProtects will continue to focus on the Geotab ecosystem with planned availability for its product coming the second quarter of 2021, he said.
J.J. Keller will continue to offer telematics and ELD products through its Encompass Fleet Compliance platform, along with a library of online training courses, managed services and over-the-road CMV driver training products. When VideoProtects becomes available in the Geotab ecosystem, fleets will be able to overlay video from the platform with other safety and compliance expertise from J. J. Keller.
PS Logistics acquires small carrier
Birmingham, Alabama-based PS Holdco, operating as PS Logistics, announced that one of its subsidiaries, DMT Trucking, has completed the acquisition of WilMar Trucking and WilMar Logistics. Terms of the deal were not disclosed.
WilMar Trucking, located in Camden, Alabama, has approximately 30 drivers. The transaction is intended to boost PS Logistics' operations in the Southeast and provide it with an additional terminal.
"We are proud to welcome WilMar Trucking to the PS Logistics family," said Houston Vaughn, president of PS Logistics. "We look forward to working with their excellent drivers and experienced operations group to continue their great culture and strong customer service."