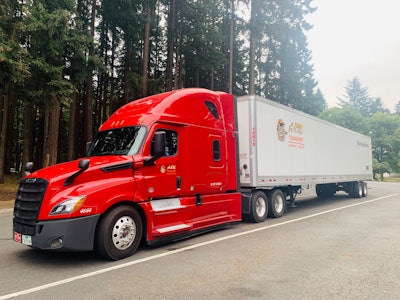 AM Transport
Andy Owens wants to get four million gallons of renewable diesel (RD) to the Umpqua Valley in southwest Oregon. This would be enough to fuel his fleet, AM Transport, and two other trucking companies for a year.
Owens is chief executive of Glendale, Ore.-based AM Transport and chairman of the Oregon Trucking Association. The others involved are a log hauler and wood chips transporter.
RD is produced in refineries using feedstock that includes animal fats and vegetable oils. The low-carbon RD molecule is refined to the same ASTM D975 specifications and standards as conventional diesel fuel.
Trucks that run RD get the same fuel economy but emit 67% fewer emissions than diesel. With fewer carbon byproducts, fleets will see lower maintenance costs by eliminating clogged diesel particulate filters (DPF).
AM Transport runs Detroit engines and its DPF units require "constant maintenance," he said, and spends more than $100,000 a year on this item.
Subsidizing the cost
Nearly all RD production in the United States at present is going to Oregon and California. In 2020, Oregon consumed 41 million gallons and California 617 million gallons of RD. Those numbers are expected to grow exponentially in the next few years.
As production ramps up, Oregon is on target to consume 705 million and California nearly three billion of RD gallons, according to research by Keith Wilson, president of Titan Freight, a 50-truck less-than-truckload carrier based in Portland.
AM Transport currently buys 1.8 million gallons a year of B5 diesel that contains a mixture of 5% bio with 95% petroleum-based diesel. This volume is enough to supply 80% of the fleet's annual needs to run 130 trucks more than 14 million miles up and down the West Coast.
The company gets B5 through a supply chain that unloads it in the Puget Sound area by boat. It is transported by pipeline to Eugene where it is picked up by a tank carrier for delivery two hours south in Glendale at AM Transport's terminal.
Owens heard about RD last year after speaking with Wilson. Titan Freight has been running RD for the past nine months. The fleet buys renewable diesel locally from a supplier that delivers to Titan's onsite fuel tank.
"I made up my mind when I talked to Keith that 'I'm going to go there,'" Owens said. "[Renewable diesel] solves a whole lot of issues with the emissions and environmental legislation that is coming down the road at us."
The cost to produce one gallon of RD is about two times that of petroleum diesel, Wilson said. Fleets in Oregon are paying much less at the pump, however. The retail cost is reduced by $2.00 per gallon from a federal "blenders credit" given to fuel refiners. On top of this, California and Oregon are making the price competitive with diesel by using a subsidy, a credit, from cap-and-trade systems.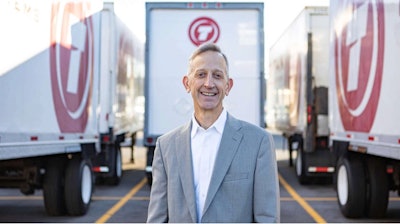 Oregon's Clean Fuels Program lowers the cost of RD by an additional $1.30 to $1.50 per gallon, Wilson said.
The program adds $0.03 per gallon to the retail price of petroleum-based diesel. Oregon will continue to increase the tax on diesel fuel to meet its emission goals. Its plan calls for a tax of $0.07 per gallon in 2021, he said. Fleets that are buying RD in Oregon now, therefore, have "a huge opportunity to lower their costs," he said.
Fleets in Oregon already pay the highest road taxes in the nation. The state's weight-mile tax is $0.20 per mile, which is 40% higher than the closest state, Wilson added.
Seeing tangible results
RD has enabled Titan Freight to make up lost ground for the ambitious carbon reduction plan leadership set 10 years ago. Titan's Vision 2020 plan called for a 20% reduction in greenhouse gas emissions by the first quarter of 2020.
The fleet reduced emissions by only 9% at that time, after investing millions in new equipment and aftermarket products, Wilson said.
During the past nine months of using RD, Titan Freight has averaged 6.7 mpg — the same as with trucks that run conventional diesel. It pays $0.05 less per gallon for RD compared to diesel.
The fleet's total savings comes to $0.024 per mile and $24,000 for the year. This includes the fuel and maintenance savings from eliminating replacement parts and downtime from DPF repairs, as well as a 75% reduction in oil costs by extending its drain intervals with fewer contaminants entering the crankcase.
To date, Titan Freight has been running RD in trucks for one million miles, which is 54% of total fleet miles. Wilson calculates a GHG emissions reduction of 1,217 metric tons during the past nine months.
Beyond the financial and environmental benefits, "my mechanics love it. There is no more smell," Wilson said. "Drivers also love it. If they spill fuel on their hands it has zero smell and washes off like water."
The only problem for Owens — and it's a major one — is finding a company that can supply more RD fuel to Oregon's rural areas.
"I've uncovered a lot of rocks to try to get it," he said.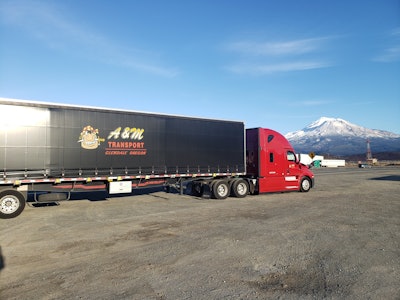 The Portland area is the only place where RD fuel is available in Oregon. It is being imported there from Singapore by energy supplier Neste. Owens has reached out to refineries as far away as Wyoming to no avail.
Owens may have to wait a year or two for petroleum refineries to convert more capacity to producing RD. "Once that happens we should be good."
If RD fuel has to be brought to Glendale from Portland by truck it would be $0.15 cents gallon above the cost of B5, he said. He has considered plans to bring fuel to Glendale by rail. A vacant sawmill in the town could be used as a rail site.
If RD could be brought in by rail, and eventually by pipeline, Owens believes the fuel will have a bright future. Looking past the southwest, Oregon has a hotbed of trucking activity to the east near Grants Pass and Medford, he said.
Ramping up production
In 2022 Oregon will have one of the world's largest production facilities from NEXT Renewable Fuels. Another large producer of RD in the United States is Renewable Energy Group (REG) out of Ames, Iowa. The company has 10 biodiesel refineries and is producing more than 500 million gallons of year of renewable fuels.
REG is expanding its Geismar, La renewable diesel plant to 250 million gallons a year.
"Right now, the excitement is great, and the market pull is fantastic," said Todd Ellis, executive director of regional sales for REG. The company is primarily focused on West Coast markets due to state incentive programs and is investing in a supply chain to deliver RD to wholesale terminals up and down the West Coast.
During the next few years, interest in RD will expand beyond California and Oregon. Other states may decide to adopt similar cap-and-trade systems to subsidize the cost to motor carriers to reach their emission goals.