Last March and April, CCJ talked to dozens of fleets about how the COVID-19 outbreak was impacting their daily operations, their business opportunities and their personnel. We're catching up with some of those same fleets a year later to see how they're faring – and to recap what's happened in the time since.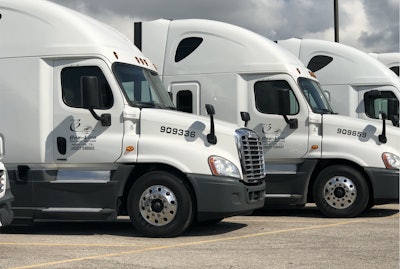 It's been just shy of a year since Amanda Schuier, senior vice president of the 21-truck Quality Transport, posted to Twitter a photo documenting a sign of the sudden and chaotic times in which many fleets and drivers found themselves in last March.
It was a 200-truck line at a Costco distribution center, where a Quality driver was trying to make a delivery as demand for food and home products like paper towels and toilet paper spiked amid panic buying and pantry stuffing when it became clear COVID was already spreading quickly on U.S. shores. That driver ended up spending two days waiting to unload — part of Schuier's long work in the year since of dealing with the blows of the virus, the ups and downs in freight demand and shepherding Quality through it all.
"It's been...a year," said Schuier this week, recapping the 12 months since that photo was taken and uploaded to Twitter. "I honestly give a lot of credit to our drivers, because they're the ones out there on the front lines delivering. None of them ever said 'I'm not going to do my job.' They just got out there and got it done."
Despite weathering the subsequent tough months of business, including having to cut back hours for some drivers in the April, May and June slowdown after the panic buying and restocking died down, Quality was able to keep its drivers' jobs intact, avoiding layoffs in a year that saw massive cuts to the industry's workforce overall. 
In March and into April of last year, business boomed as the fleet stayed busy on the restocking efforts. "Then we bottomed out. Like others, we were sort of begging for freight, and rates were garbage." She remembers taking at least one load for $1 a mile. "I didn't have any other options. I was stuck with it," she said.
Quality did trim its size some in terms of equipment count — "rightsizing," Schuier said, to 21 trucks as opposed to the 30 trucks the fleet operated last year at this time. "We're much more efficient now," she said, citing tech upgrades over the past year implemented around dispatching and ELDs, and integration thereof. (CCJ's Aaron Huff talked with Schuier more in-depth about the fleet's tech transition. Read that story here.)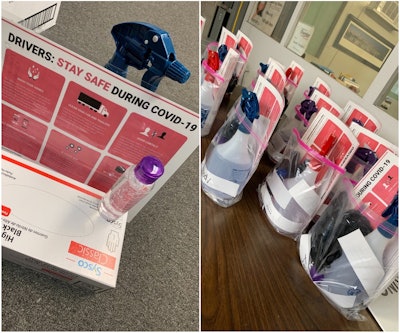 The roughly 60-truck Bee-Line Transport, a Houston-based dry van carrier, likewise overhauled its dispatch software and ELD system to adapt to the shift to a more contactless world and to better integrate with its shipper customers, said James Jeter, the company's director of safety.
In early April of last year, Jeter told CCJ the fleet had instructed drivers not to exit their cab at shippers' and receivers' facilities unless it was absolutely necessary. Now, facilities have their own requirements and have mostly instituted contactless solutions for paperwork during loading and unloading. "Our drivers have adapted well," too, he said. 
Bee-Line felt the pinch of last year's freight downturn, "but we came through in great shape," said Jeter. The fleet in recent months has even been able to add a few trucks. "We didn't chase" relief loads, Jeter said. Rather, the fleet stuck with its existing customers and their freight contracts. 
The fleet's also been able to take advantage of the new hours-of-service reforms enacted in September, Jeter said. Chiefly, the ability for drivers to utilize the new split-sleeper berth options to effectively pause their 14-hour clocks "has been amazing," he said. Bee-Line encourages drivers to take a full 10-hour break while using the split-sleeper option so as to fully reset their 14-hour on-duty and 11-hour drive times, while taking the shorter two- or three-hour split in between.
Both fleets said they worked over the past year to keep drivers stocked on personal protective equipment like masks, gloves and sanitizers, as well as tried to bolster their lines of communication. 
"Communication with our drivers has been absolutely critical," said Schuier, such as talking over safe places to stop, where to get COVID testing if necessary, and how to secure PPE supplies. The company has leveraged YouTube to post weekly and sometimes daily updates, she said. 
A few drivers had to quarantine after exposure to the virus, but "knock on wood," Schuier said, "we haven't had a single driver test positive."
This year, getting drivers vaccinated against COVID-19 as early as possible is of top priority, Schuier said. And from a business perspective, the company's looking at expansion opportunities, starting with testing the waters in new modes. "We just added a straight truck," said Schuier. "We're looking to try some new things and offer new options to our current customers. We don't want all of our eggs in one basket."