Last March and April, CCJ talked to dozens of fleets about how the COVID-19 outbreak was impacting their daily operations, their business opportunities and their personnel. We're catching up with some of those same fleets a year later to see how they're faring – and to recap what's happened in the time since.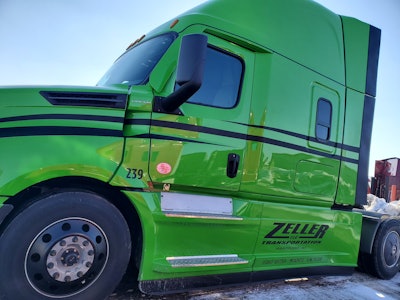 If you're just looking at reefer freight demand and day-to-day business, March 2021 seems mostly ordinary, said Craig Zeller, owner and founder of the roughly 50-truck Zeller Transportation.
"We're extremely busy," he said. For Zeller, that includes a lot of time behind the wheel himself. Even though the three-truck fleet he founded in 2002 has now grown to over 50, he still drives, giving him perspective many fleet owners and managers don't often see – and perspective on what's not so ordinary still in the ongoing COVID-19 pandemic.
"On the road side of the world, it's still different. You can see it and feel it," he said. From truck stops where everyone's wearing a mask to those where no one is, to interacting with shippers and receivers at the docks, to the slowdown in trucker appreciation events since the pandemic first hit and drivers were lauded as heroes, Zeller has a front-row seat.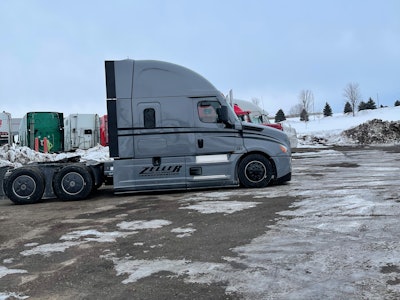 "It was humbling when that stuff was going on," he said of the myriad of roadside and truckstop-based events that offered drivers free meals, PPE kits, thank-you cards and sweet treats. "It was really neat and humbling to see all of that."
He senses a difference now. "When nobody had toilet paper, we're the heroes. Now it seems like everybody forgot about us," he said. Having the powers that be declare truckers a higher priority for COVID-19 immunization shots would have helped restore the sentiment that truck drivers are regarded as heroes amid the pandemic, Zeller added.
Truck drivers are currently in Phase 1C of the CDC's recommended vaccine distribution schedule. That's along side the general population between the ages of 65 and 74, and those considered "other essential workers," which according to the CDC includes food service, housing construction and finance, information technology, communications, energy, law, media, public safety, and public health, as well as transportation workers.
Truckers were not part of the Phase 1B schedule that included "frontline workers" — those like fire fighters, police, manufacturing workers, grocery store workers and teachers and daycare workers. Several states are now entering Phase 1C, which does include transportation workers.
RELATED: $1/mile loads, 200-truck lines, and an HOS overhaul to boot: Two fleets' stories of grappling with trucking in a pandemic
Zeller's fleet operates mostly contract freight, and they stuck with their customers through the ups and downs last year, rather than chasing rates on the spot market as the pendulum swung in the summer and fall. "We tried to honor our contracts as much as we could," he said.
That included at times having to cut weekly miles for some drivers as freight slowed, with some dropping to around 1,800 a week instead of the usual 3,000. Through it all, they didn't have to cut any drivers or office personnel. "We had some lean weeks," he said, "but we did not have any reductions,"
They did have a few drivers and other personnel contract COVID, but everybody made it safely through, he said. The few times a driver did catch it while on the road, "we did everything we could to get them home as fast as possible," he said. "Everybody thankfully made it out all right."
Zeller started his trucking career "as a wash boy," he said, when he was just 14, in the early 1990s, working at a trucking company of a friend of his family. When he was 24, in 2002, he opened for business as Zeller Transportation with three trucks.
He likened the second quarter of 2020 to other dark economic years for trucking: 2007-2008. "A year ago today I felt like we were climbing. I felt like the demand was there for carriers and things were about to get really good. Then the end of the world came," he said. Since, there's fortunately been a steady recovery and increased demand for Zeller's services, he said. "It was a mess — it was 2020."