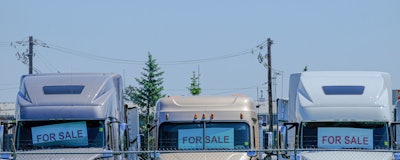 As the tumultuous economy of 2021 makes its way through the first quarter, businesses are encountering sporadic patterns of equipment investment demand depending on which market sectors they serve.
Based on the Equipment Lease Finance Foundation's U.S. Equipment & Software Investment Momentum Monitor, most vertical sectors are showing historically weak momentum after the COVID-19 pandemic suddenly halted investment during the first half of 2020.
Many transportation segments are seeing quicker recovery
Vertical segments that are exceedingly impacted by a stalemate in consumer mobility, particularly aircraft, are most likely going to remain weak. However, other vertical segments have the possibility for a greater recovery, including Class-8 tractors, other industrial equipment, and medical equipment.
The reason for this stronger recovery for transportation fleets is a product of the country's reopening plans that placed heavy dependence and shipping activity for transporters, which ultimately has put more miles on trucks on the road today. Subsequently, truck replacement and investment strategies will rise in 2021, and will be a pivotal decision for many companies going forward.
This recent activity has already begun to pick up, as the most recent figures show that North American Class-8 orders in December reached the fourth-highest volume ever, surpassing 50,000 for the second month in a row, according to ACT Research citing truck makers' initial data.
Grocery, retail, health segments driving demand
With so much importance now on replacing older models with newer more reliable trucks, business owners and fleet operators face major decisions on how they will structure the financing of replacement units this year.
To start, transportation fleets are putting more miles on their trucks, which are handling an increase of shipments on everything from grocery orders, health and sanitation products, as well as everyday goods now purchased through online channels.
Altogether spending on Amazon.com during its two-day Prime Day event increased by 36% in the U.S. compared with its promotional day the year prior, according to research firm Edison Trends. Leading up to the event, research firm eMarketer forecasted that Amazon's total U.S. Prime Day sales would reach $6.17 billion.
Trucks are also assured to play a massive role in the realm of transportation as COVID-19 vaccines continue to roll out in the coming months. Pfizer is just one of the many companies now distributing these medicines to millions of Americans. The company has manufactured a staging ground with 350 large freezers ready to serve the transportation of up to 100 million doses of vaccines, and another 1.3 billion later this year.
Procurement strategies keeping costs down
This ultimately means that organizations are increasingly keeping an eye on the impact that the cost of truck operations – fuel, and maintenance and repair – has on their bottom line as trucks will be imperative to these distribution channels.
Considering the price of diesel, more organizations are making immediate changes to the life cycle of their trucks to profit from newer units that offer more fuel-efficiency and altogether total cost of ownership (TCO). A current analysis of truck life cycle data shows that fleet operators are now obtaining a first year per-truck TCO savings of $16,856 when improving from a 2016 sleeper model-year truck to a 2021 model. The amount they save on fuel alone is $5,084 per vehicle.
The improved fuel economy of newer trucks — even when fuel prices happen to be low — is a huge reason why a fleet should stay up to date, in addition to the safety advancements and CO2 reductions.
Just how imperative is it to find every opportunity to keep costs at an all-time low? United Parcel Service Inc. reported recently that it is in the process of delivering more packages due to the increased volume of online shopping, but the costs to deliver have also gone up. The company reported an increase in revenue of nearly 16% in the third quarter, and profit heightened to 11.8%, but its large domestic business also reported a significant loss in profits due to hiring of more employees, delivery costs, and $179 million in spending to capitalize on the momentum up of delivery times. These companies are always looking at every opportunity to bring down TCO to balance other operational costs and maintain profits.
Innovative programs infuse cash, prepare for future procurement
The companies that focused on grocery distribution saw banner years but not all transporters saw gains in 2020, and the uneasy economic climate has placed major obstacles before their fleet operations and bottom line.
Many organizations needed to drastically cut down their fleets because of the downward spiral in business activity, such as distributors that serviced restaurants that are now closed. In fact, more than a quarter of executives polled in a recent industry survey (27%) said they reduced their fleets, and new industry programs were implemented to help organizations scale their fleets properly while infusing much-needed cash into their operations.
These revolutionary programs will continue to work for businesses that need to right-size their fleet operations yet want to remain competitive with their future truck production strategies in 2021 when the economy hopefully starts to take a turn in the right direction.
Katerina Jones is Sr. Director of Marketing and Business Development at Fleet Advantage, a leading innovator in truck fleet business analytics, equipment financing and lifecycle cost management. For more information visit www.FleetAdvantage.com.