Trucking news and briefs for Friday, March 5, 2021:
Trucking jobs fell in February in first dip since last April
The total number of payroll jobs in the for-hire trucking industry fell by 4,000 in February, according to preliminary data from the Department of Labor. That's the first such month-to-month decline since last April's massive jobs losses, when some 87,000 trucking jobs were lost in a single month in the worst of the economic downturn caused by the COVID-19 pandemic.
Since April, however, there's been a steady recovery in trucking employment, marked by several months of strong gains, including a rally from August through November in which 37,000 jobs were added back. Hiring among trucking companies slowed last month, and preliminary data initially showed a dip in trucking employment in January. Revised data now shows employment gains had simply stagnated in January, growing by 800 jobs from December.
February's 4,000-job dip came amid other signals of a slowdown in the recovery for the trucking sector, though indicators in late February point to potential renewed growth. Likewise, trucking was an outlier among the economy at large, which added 379,000 jobs in February -- a pickup in hiring from January and a sign that economic growth might resume as spring picks up, as coronavirus cases have waned in recent weeks, and as more Americans become immunized against COVID-19.
RELATED: 'People have to feel like we give a damn': Empathy, respect key to driver retention
Total employment in for-hire trucking was 1,475,700 in February, according to the DOL's Bureau of Labor Statistics. That's 49,100 jobs shy of last February's total, but 47,300 jobs higher than last April's low.
Major freight-producing sectors were a mixed bag in the DOL's February jobs report, with construction dropping 61,000 jobs and manufacturing adding 21,000 jobs. Transportation equipment manufacturing was one of the key drivers of manufacturing employment growth, adding 9,700 jobs in February.
The transportation and warehousing sector as a whole added 4,400 jobs in February, led by continued growth among couriers and messengers (aka parcel delivery and other last-mile services), which added 9,000 jobs, and in transit and ground passenger transport, which added 8,600 jobs. Air transportation dropped 8,200 jobs, in addition to trucking's drop of 4,000.
The leisure and hospitality sector, one of the hardest hit segments in the COVID-19 downturn, added 355,000 jobs back in February, though it still remains 3.5 million jobs shy of last February's total.
Food services and drinking places saw the strongest growth in the sector, adding back some 285,000 jobs.
...but spot rates resumed their momentum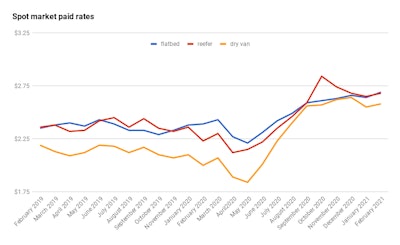 Per-mile rates on the spot market resumed their upward momentum in February after growth stalled slightly in January, according to rates data from Truckstop.com. The dips in January followed a roughly six-month streak of gains seen in the back half of 2020 as certain freight sectors were buoyed by shifts in consumer spending and a jumbled supply chain put continued upward pressure on spot rates.
In February, those market forces appear to have regained their footing, with flatbed adding 5 cents a mile on average and reefer and dry van rates adding three cents a mile on average.
Flatbed's $2.69 per-mile average in February was the segment's highest since September 2018 and was 30 cents higher than the same month last year and 34 cents higher than February 2019.
Reefer's $2.68 a mile average, three cents higher than January, outpaced last February by 45 cents a mile. Reefer's February per-mile average was 31 cents higher than February 2019. Reefer hit multi-year highs in the fall.
Lastly, dry van's $2.58 average, also up three cents month to month, bested January 2020's average by 48 cents and January 2019 by 32 cents. Like reefer, dry van hit multi-year high marks in the fall.
Founder of large fleet passes away
The founder of one of the country's leading trucking companies died earlier this week.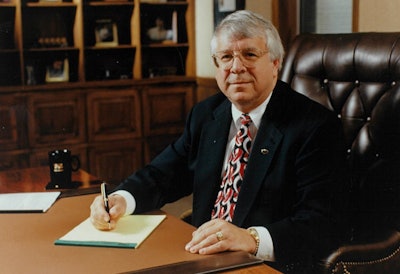 Harrold Annett, who founded TMC Transportation (CCJ Top 250, No. 52) in 1972, died from Guillain Barre Syndrome with complications from pneumonia, according to his obituary. He was 78 years old.
Since its founding, Des Moines, Iowa-based TMC Transportation grew into a major employee-owned open deck transportation company with some 3,000 drivers.
Aside from operating TMC, Annett was active in motorsports, especially sprint car racing. He was inducted into to the Knoxville Raceway Hall of Fame in 2007. His son, Michael, competes in a NASCAR circuit. He also operated a bicycle shop, built a BMX racing course, and traveled nationally to support a BMX racing team.
Annett also developed real estate in Lake of the Ozarks, Missouri.
Mack, Volvo now allow unlimited OTA vehicle parameter updates
Mack and Volvo customers can now make unlimited parameter updates through each company's over-the-air remote programming system.
"Mack wanted to make it easier for customers to implement parameter updates since some need to do so on a frequent basis depending upon their specific applications," said David Pardue, vice president of connected vehicle and contract services for Mack Trucks. "Unlimited parameter updates help improve the total cost of ownership, fuel efficiency and vehicle productivity, so Mack is pleased to be able to offer this to our customers."
Mack and Volvo offer an extensive list of vehicle parameters that can be adjusted over-the-air, including maximum road speed, cruise speed, idle shutdown time, transmission shift logic and more.
Mack OTA and Volvo Trucks' Remote Diagnostics bundle of Uptime Services are free for the first two years of ownership and can be extended by subscription after that time period.
IntelliShift partners with Ford Commercial Solutions
Connected vehicle platform IntelliShift announced a new collaboration with Ford Commercial Solutions that will integrate Ford vehicle data into IntelliShift's platform to furnish a rich information source, further augmenting its machine learning-driven predictive offerings for fleet operations.
"As America's best-selling brand of commercial vehicles for 35 years, Ford has unmatched access to valuable OEM data that can provide deep insight into many core business processes for our customers," said Ryan Wilkinson, Chief Technology Officer, IntelliShift. "By collaborating with Ford Commercial Solutions, we're excited to harness the company's real-time vehicle information to provide a more robust 360-degree view for our customers and to continue to drive overall business success."
In support of the collaboration, IntelliShift deployed a seamless data exchange to connect with Ford vehicles equipped with built-in modems, starting with 2018 model year and becoming standard across all Ford vehicles in 2020 model year.
When requested by the customer, data can be securely transferred to IntelliShift's cloud-based, SaaS platform. Eliminating the need to install additional hardware, IntelliShift's web-based API connects disparate data systems – including insights collected from customers' Ford vehicles – creating one unified, single pane of glass system that delivers actionable insights to better manage company operations.
CalAmp updates UI for iOn fleet and asset management system
CalAmp has rolled out a new user interface for its CalAmp iOn fleet and asset management system that the company says improves workflows and allows users to easily dive into business-critical data needed to increase fleet efficiency, cost savings and safety.
Key enhancements to the system include data insights for visibility into fleet operations with alerts and reports offering in-the-moment intervention to address critical issues and the ability to maintain service schedules by receiving alerts from Bluetooth-enabled iOn Tags when high-value assets are missing, monitor driver performance with iOn Vision and a Driver Behavior Scorecard; and more.
The update also improves workflow efficiency with easier navigation, map layering and a cleaner interface displaying a holistic view of all vehicles, drivers and assets.