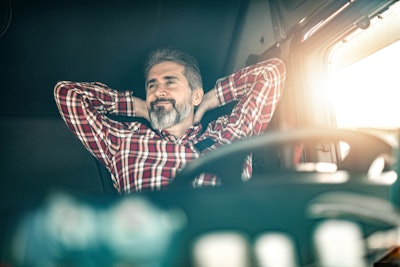 Motor carriers have largely benefitted from using social media platforms to stay connected with a remote driver workforce, as well as with current and  prospective customers. A hard-fought image can be tarnished instantly, however, with a commentator who shares grievances or negative opinions.
Like most companies, motor carriers are generally cautious about information they share publicly with the risks of becoming the next victim of cancel culture. But as much as companies try to create a positive vibe on social media, someone will always have something negative to say. How should fleets handle these situations?
Reputation management, noted Conversion Interactive Agency Vice President Steve Sichterman, is a big piece of who you are as an organization, and a company's online reputation in many cases is the first one – and some times the only one – people will ever see. 
"How often do you use Yelp to check out restaurants? How often do you choose to not go to a restaurant because their online reputation isn't as high as it could be?" he asked. 
According to the 2020 Driver Recruiting and Retention Annual Report, which was produced jointly by the Professional Driver Agency and Conversion Interactive Agency, 74% of drivers read online reviews when looking for a new carrier.
A "good" online score could be anywhere from 3 stars to 5 stars, but "how you handle your reputation online is vital for people who are looking for a career with you," Sichterman said. 
In January, Chief Carriers was nominated as a 2021 finalist for the Best Fleets to Drive For program by the Truckload Carriers Association and CarriersEdge. At this time, Winkler recalls seeing a negative comment from somebody who must have been a former driver.
"We try to go straight at it," said Andrew Winkler, general manager for the 65-truck flatbed hauler based in Grand Island, Nebraska.
Rather than respond tit for tat, Winkler invited the person to have a phone call. "I wanted to understand their point of view," he said. When responding to a negative comment, Winkler's strategy is to acknowledge the person's opinion and invite them to share more offline in a direct conversation.
"It's easy to get defensive," he said, "but you can't do that."
When someone posts a negative comment to Wilson Logistics' social media sites, the company's marketing team gets the first look. Depending on the content, the team may notify executive Scott Manthey, vice president of safety and training, who has the responsibility for overall risk management.
[Related: Coronavirus challenges communication between drivers and carriers]
Manthey said negative comments often result from a misunderstanding. While the company has removed some comments, "we are not the type that just rips everything down that might be negative. We know we're not perfect, but we do strive for excellence."
Wilson Logistics (CCJ Top 250, No. 98) is a 1,100-truck carrier based in Springfield, Missouri. The company uses various social media channels that include Facebook, LinkedIn, YouTube and Twitter to communicate with drivers, office staff, and the public.
In most cases, Manthey said he views negative comments as an opportunity to politely correct information, although "not everybody is receptive when you give details," he said. "People have opinions. You have to respect that."
Recently, a negative comment went so far off base that "I let it go," he said. The person was ranting about Wilson Logistics not having CDL drivers on the road. The company has a CDL training program that allows drivers to operate with a commercial learner's permit as long as a coach is in the vehicle. Facts don't matter to some people, he said, and in such cases "is the juice worth the squeeze?" he asks.
Using private groups
Some social media platforms, like Facebook, have the ability to create closed group networks. Many carriers have a private channel for drivers where they share company news to create a culture of transparency.
News shared on the platform is being seen by drivers, according to the 2020 Truckers News and Overdrive Connectivity Report that found 61% of drivers use Facebook for networking and 59% use YouTube.
Sharing company news on private Facebook groups can help prevent drivers from hearing information first from a second-hand source, Manthey said. As an example, Wilson Logistics has shared updates about its COVID-19 protocols for employees to return to work with text and YouTube videos.
Some updates have drawn negative comments because the CDC is more lenient than Wilson Logistics' own return-to-work policy. The CDC recommends a 14-day quarantine, but Wilson requires that employees have a negative test before they return to work.
Wilson Logistics pays drivers and office employees the average rate of income from their last six weeks during the full time that employees are quarantined with COVID-19, but "some people didn't like having to stay out a few more days," he said, due to the company's policy. "There are going to be times when people get frustrated."
[Related: 'Drip marketing' becomes the trend in driver recruiting]
The use of social media has proven helpful to address these concerns head on. "As long as you are talking to them, you have to communicate with people before their minds go too far down a road that would be less than favorable."
Chief Carriers uses a private driver's page on Facebook to post regular YouTube videos that give business updates. In instances where the company makes a staffing change, Winkler makes sure to address the situation in the private page using a video or note to "explain what happened, and why it came out the way it did, to put the rumors to rest."
"What people don't know they will certainly make up," he said. "We try to get ahead. For me, I really try to think it through it before I speak, or put anything in writing. I try to look at it from different angles, to make sure it will not come back to bite me somehow."
An ounce of prevention
Winkler said he has found success at preventing misunderstandings that turn up on social media by focusing more time and effort on activities outside of social media, such as taking advantage of opportunities to have one-on-one conversations with drivers as they come through the office.
Manthey said Wilson Logistics has a policy for fleet managers to talk to drivers at least once a day, over the phone, to learn about them as a person and their family, and anything they may be having trouble with that day. Wilson Logistics is a 2021 Best Fleets to Drive For finalist.
"It blows people away," he said. "It is time consuming, and uncomfortable, but you get used to it and you get to know people."