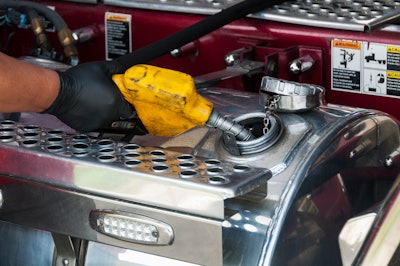 Trucking news and briefs for Wednesday, May 12, 2021:
Colonial Pipeline 'making progress' to restore fuel delivery 
Colonial Pipeline said Tuesday evening that it continues to make progress in its around-the-clock efforts to return a 5,500-mile-long Southeastern fuel artery to full-service. The company was able to bring more lateral lines online yesterday (operating manually) to deliver existing inventories to markets along the pipeline.
"Markets experiencing supply constraints and/or not serviced by other fuel delivery systems are being prioritized," the company said via statement. "We are collaborating with the Department of Energy (DOE) to evaluate market conditions to support this prioritization."
Some Love's locations – mostly in Georgia, North Carolina and South Carolina – are experiencing intermittent diesel and gasoline outages, and the company identified another nearly 40 stations at-risk of fuel outages in those states plus Virginia. Pilot Companies said it has seen spikes in gas demand in the Southeast, but diesel is holding steady in most markets. The company identified more than 10 stations in the Carolinas, Florida, Virginia and Georgia that have experienced some degree of service disruption. 
In preparation for its system restart, Colonial Pipeline said it has taken delivery of an additional 2 million barrels from refineries for deployment upon restart.
Federal Motor Carrier Safety Administration has issued a regional emergency declaration to waive hours of service regulations for drivers hauling fuel and other refined petroleum products in Alabama, Arkansas, District of Columbia, Delaware, Florida, Georgia, Kentucky, Louisiana, Maryland, Mississippi, New Jersey, New York, North Carolina, Pennsylvania, South Carolina, Tennessee, Texas, Virginia and West Virginia. 
"Actions taken by the Federal Government to issue a temporary hours of service exemption for motor carriers and drivers transporting refined products across Colonial's footprint and actions taken by several Governors to lift weight restrictions on tanker trucks should help alleviate local supply disruptions," the company said. "This is in addition to the Reid Vapor Pressure wavier issued today by the U.S. EPA that will also help alleviate supply constraints in several states serviced by our system."
The Colonial Pipeline supplies about 45% of Southeast's gasoline, but that was ground to a near halt with a targeted cyberattack over the weekend.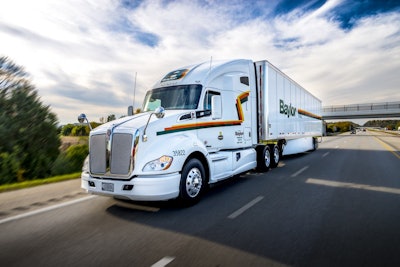 J.B. Hunt, Yellow, Baylor earn top carrier honors from Walmart
J.B. Hunt Transport Services (CCJ Top 250, No. 3), Yellow Corporation (YRC Freight) and Baylor Trucking were recently recognized as carriers of the year by Walmart.
J.B. Hunt was named the 2020 Intermodal Carrier of the Year by Walmart, marking the second consecutive year receiving the award.
J.B. Hunt achieved a sustainability milestone in 2020 by completing its first delivery using an all-electric Class 8 truck, a 120-mile intermodal haul for Walmart. Throughout their 30-plus year relationship, J.B. Hunt has received multiple recognitions from Walmart for service excellence. This year's award was based on a demonstrated commitment to customer service, effective communication, and improvements in service.
YRC (No. 6) received Walmart's Carrier of the Year award for the third year in a row. Walmart awards the Carrier of the Year honor to LTL carriers that support one of the most sophisticated supply chains in the world, helping Walmart serve its customers and communities across North America. Yellow's national network offers significant capacity and coverage to Walmart and its suppliers, while prioritizing safety, service, communications and innovative shipping solutions.
Family-owned expedited dry van and reefer carrier Baylor was named Walmart's Diversity Carrier of the Year, which recognizes a top-performing carrier that is a woman-, minority- or veteran-owned company. The award is the fourth Carrier of the Year award Baylor has received from Walmart, and its second consecutive Diversity Carrier of the Year award.
As a top performing Walmart carrier, Baylor expanded its relationship in 2020 by 58.5% in terms of load count across Walmart's dry, refrigerated and consolidated freight networks. Baylor held fast to contracted rates and lane commitments despite an unprecedented surge in demand for its exception-free delivery services during the COVID-19 pandemic.
A. Duie Pyle expanding Maryland logistics center
Asset- and non-asset-based fleet A. Duie Pyle (No. 80) has broken ground on a 115,000-square-foot expansion of its Hagerstown, Maryland, Integrated Logistics Center, which opened in late 2020. Once completed, which is expected in January 2022, the total square footage of the facility will reach 383,545.
The expansion will provide comparable warehouse and distribution functionality to Pyle's recent integrated logistics campus openings, including warehousing pick, pack and ship. It will also offer nearly 10,000 square feet of flammable storage. All of this will add to Pyle's existing 266,585 square-foot facility, which includes an 80-door LTL cross-dock, full-service fleet maintenance garage, along with office and warehouse space. 
Currently, the Hagerstown Integrated Logistics Center provides customers in the region with same- and next-day distribution, assembly and value-added project capabilities, final-mile delivery options, improved shipping integrity, extended cut times, consolidation and de-consolidation. It also includes complete integration of Pyle's LTL, Logistics, Dedicated and Warehousing & Distribution solutions. 
The expansion will add to Pyle's overall capacity to meet the needs of its customers who utilize the transportation provider's supply chain solutions while also providing a strategic entry point to northeast distribution. 
Maverick raises driver pay
Maverick Transportation (No. 79) announced its second company-wide pay increase this year for drivers in its flatbed, glass, marine and dedicated divisions, effective May 16.
For flatbed and glass OTR divisions, drivers will see a 3-4 cents per mile increase (depending upon experience). Maverick is also increasing tarp pay and guarantee pay for their OTR drivers.
Depending on a driver's division, this will bring starting pay for student drivers to 55-60 CPM, and experienced drivers will earn 59-66 CPM.
Additionally, Maverick is introducing major pay increases for many of their dedication divisions, which will include an increase of up to 5 CPM.