Trucking news and briefs for Tuesday, June 22, 2021:
Attorney enters guilty plea for role in staged-accident fraud scheme
Just days after two guilty pleas in the widespread staged-accident fraud scheme in New Orleans, an attorney who played a role in the scheme also entered into a guilty plea, according to U.S. Attorney Duane A. Evans.
According to Evans, attorney Danny Patrick Keating Jr. pleaded guilty to conspiracy to commit mail and wire fraud for his involvement in the case. Keating was the 33rd defendant charged in the federal probe into the intentional staging of accidents with trucks in the New Orleans metro area. Of the 33 indicted defendants, 23 have entered guilty pleas in federal court.
Keating admitted to conspiring with Damian Labeaud and others to defraud insurance companies, commercial carriers and trucking companies.
Labeaud referred staged accidents to Keating and other New Orleans personal injury attorneys for $1,000 per passenger for accidents involving trucks and $500 per passenger for accidents not involving trucks. Keating reportedly advanced Labeaud thousands of dollars for the accidents and instructed Labeaud that he owed Keating a certain number of accidents based on the amount of money advanced.
Keating admitted he knowingly paid Labeaud for 31 staged truck accidents. He represented 77 plaintiffs involved in the 31 accidents staged by Labeaud. He also settled 17 of the 31 staged accidents, earning his clients approximately $1.5 million.
Keating faces a maximum term of five years in prison and a fine of $250,000 or twice the gross gain to the defendant or twice the gross loss to any person of the offense.
FMCSA officially delays implementation of electronic med cert rule
The Federal Motor Carrier Safety Administration will publish a final rule Tuesday that officially delays the compliance date for a system that will streamline communication between state driver's licensing agencies and FMCSA regarding drivers' medical certifications.
The agency published an interim final rule in 2018 extending the compliance date for the rule until June 22, 2021. However, the proper systems are still not in place, so the agency is delaying the implementation until June 23, 2025. The extension "will provide FMCSA time to complete certain information technology (IT) system development tasks for its National Registry of Certified Medical Examiners and to provide the state driver's licensing agencies (SDLAs) sufficient time to make the necessary IT programming changes when the new National Registry system is completed and available," FCMSA said in the notice.
The rule, part of which took effect in 2015, requires FMCSA to electronically transmit to SDLAs the results of drivers' medical certifications once the exams have been completed. FMCSA receives this information from medical examiners, who are required to upload exam results to FMCSA by midnight the day after the exam is completed. State agencies, once they receive results from FMCSA, will send the results to the Commercial Driver's License Information System (CDLIS) to make other states aware of the results.
Once the rule is fully implemented, motor carriers will no longer be required to verify that CDL/CLP drivers were certified by a certified medical examiner listed on the National Registry.
The proposal to delay the compliance date means that through June 22, 2025:
Certified MEs would continue issuing medical examiner certificates (MEC) to qualified CLP/CDL applicants/holders.
CLP/CDL applicants/holders would continue to provide the SDLA a copy of their MEC.
Motor carriers would continue verifying that drivers were certified by an ME listed on the National Registry.
SDLAs would continue processing paper copies of MECs they receive from CLP/CDL applicants/holders.
Reopening date still unknown for closed I-40 bridge in Memphis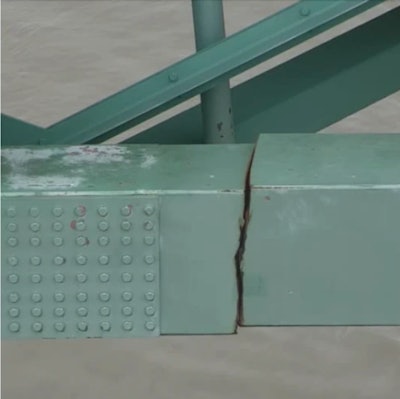 Work continues on the Hernando de Soto bridge, which carries Interstate 40 over the Mississippi River between Arkansas and Tennessee, but officials involved in the project still have no date when the critical span will reopen. Officials believe work will continue at least through July.
The bridge, which normally carries some 41,000 vehicles a day, has been closed since May 11 when a routine inspection found a major crack in a steel support beam.
Currently, all interstate traffic in the Memphis area is being diverted to I-55. See details of the detour here.
Earlier this month, Transportation Secretary Pete Buttigieg visited the bridge . "The situation with this bridge may be a regional issue, but it is a national concern," Buttigieg said.
It's been estimated that the closing of the I-40 bridge costs the trucking industry some $2.4 million a day.