Trucking news and briefs for Friday, June 18, 2021:
West Coast flatbed fleet to deliver 2021 Capitol Christmas Tree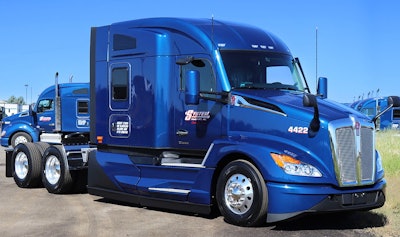 System Transport, the flatbed division of Trans-System, Inc. (CCJ Top 250, No. 100), has been selected to transport the U.S. Capitol Christmas Tree to Washington, D.C. in 2021.
The 2021 tree will make its way to the West Lawn of the U.S. Capitol building from the Six Rivers National Forest in California.
System Transport was selected as the hauler for this year's tree at the recommendation of Kenworth Truck Company and based on industry reputation on the West Coast, according to Bruce Ward, president of Choose Outdoors, the non-profit partner that assists the USDA Forest Service with coordinating the annual public engagement initiative.
"As a second-generation family-owned and operated company, Christmas is a special time of year for us", said Dennis Williams, President and CEO, Trans-System. "We are proud to be a part of the annual tradition that brings the Christmas spirit to our nation's capital, and to all the families who gather around their own trees to share the spirit of the season."
The tree will be harvested in late October before making the in-state and cross-country journey, arriving at the U.S. Capitol in late November. The tree will be decorated with thousands of handmade ornaments made by Californians and will light up the nation's Capital throughout the month of December.
System Transport first opened its doors in 1972 with one truck and trailer. It now boasts over 1,000 employees and operates more than 800 trucks. The company is headquartered in Spokane, Washington, with terminals in Caldwell, Idaho; French Camp, Fresno and Bloomington, California; Phoenix, Arizona; Denver, Colorado; Olathe, Kansas; Ennis, Texas; and Gary, Indiana. They operate all types of flatbed freight primarily throughout the West Coast to the Midwest.
Peterbilt delivers first 220EV model to Alaska
Peterbilt on June 18 delivered the first production Model 220EV to the city of Anchorage, Alaska, Department of Solid Waste Services (SWS) during a celebration at Peterbilt of Alaska's Anchorage facility.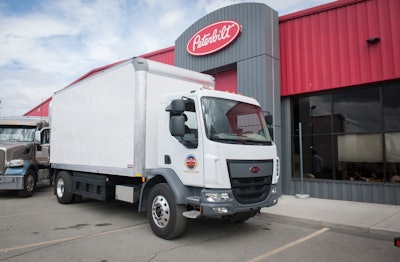 As part of a groundbreaking order that included a Model 220EV and 520EV, the city of Anchorage and SWS are at the forefront of technology and sustainability and is looking to show the benefits of battery-electric commercial vehicles to the rest of the state.
"I'm proud that SWS will be putting the first production Peterbilt Model 220EV to work," said Mark Spafford, General Manager of the Anchorage SWS. "This is a big moment for an American manufacturer and for my department. EVs are the future – they are cost effective, better for our drivers and our neighborhoods. We look forward to working with Peterbilt to share the benefits of EVs and continue to expand our electric fleet."
The Model 220EV is Peterbilt's first electric configuration for medium-duty applications.
Autocar partners with rental company for terminal tractors
Autocar and Big Truck Rental have introduced the nation's first and only national terminal tractor rental program for fleets, which is expected to launch in the third quarter of this year.
Autocar's advanced direct-to-customer business model and Big Truck Rental's reach in the marketplace will provide enhanced service to fleet owners.
Autocar's ACTT terminal tractors include the tallest, widest and deepest cab and door combination in the industry made from 100% steel; the heaviest-duty bumper that protects driver, cab and chassis in collisions; a robust hydraulics system with fast up and down speeds; four-point cab air suspension; cab soundproofing and more.
"As we look into the fragmented terminal tractor market, there are so many varied needs for small, medium and large fleet owners," said Mark Aubry, general manager of Autocar's Terminal Tractor division. "One of the most outstanding and critical elements needed is the support of operations to meet the ever-expanding needs of business – and this can be achieved most effectively through the strategic use of rentals."
Cuban citizen pleads guilty to role in CDL fraud scheme
Marino Maury Diaz Leon, a Cuban citizen, pleaded guilty on May 21 in the U.S. District Court for the Western District of Texas to conspiracy to commit mail and honest services fraud in connection to a scheme to fraudulently issue commercial driver's licenses.
According to the indictment, from January 2017 through about June 30, 2019, Leon and two co-conspirators paid a Texas Department of Public Safety employee to falsely certify that CDL applicants had passed the skills portion of the CDL test. However, those applicants had either failed or had not taken the test.
The DPS employee provided Leon and a co-conspirator with temporary CDLs for the applicants, and DPS later mailed those individuals permanent CDLs. Leon is scheduled to be sentenced on Sept. 1.