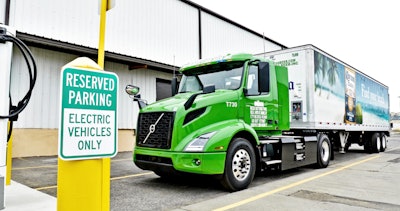 Volvo Trucks North America
In the midst of an ongoing microchip shortage that continues to constrain vehicle production, one major truck maker says it's time for the Biden administration to step up and recognize the vital role of commercial vehicles.
Like other OEMs, Volvo Trucks North America has remained in step with White House goals to fight climate change with zero-emission trucks like its VNR Electric, and in a statement to CCJ, they said they support "administration efforts to re-shore semiconductor capability in the U.S."
However, the nearly 100-year-old truck maker said it's now time for the Biden administration to focus on a more immediate solution to help bolster commercial vehicle manufacturing, which includes a growing selection of electric trucks that require more semiconductors than internal combustion models.
"[Reshoring chip production] will help our industry, adding much-needed local capacity for the medium to longer term," a statement from Volvo Trucks North America reads. "To mitigate the short term, we would like the administration's support to recognize the essential importance of commercial vehicles."
Volvo's comments follow the Biden administration's recent request to OEMs to divulge their semiconductor counts versus their actual production needs since manufacturers overseas have expressed concerns of chip hoarding among auto makers. Commerce Secretary Gina Raimondo has threatened to use the Defense Production Act to get that chip data.
Determining how semiconductors are divvied up among OEMs that are periodically shutting down assembly lines and losing billions in sales because of chip shortages won't be easy.
"Maybe something beneficial could come out of that, but there's nothing in this that's going to lend itself—that has lended itself so far, or going to lend itself in the near future—to a simple fix," said IHS Markit senior analyst Phil Amsrud who keeps a close eye on the semiconductor market.
Amsrud said that chip makers are investing heavily into production in the U.S. which is being backed by the $52 billion U.S. Innovation & Competition Act. That package includes $2 billion for the auto industry and heavy trucks.
However, domestically-sourced semiconductors may have little impact on the trucking industry.
"Re-shoring semiconductor capacity probably would have no meaningful impact on trucking," said Avery Vise, vice president of trucking at FTR Transportation Intelligence. "First, it would not be a quick solution; by the time we saw significant re-shoring we undoubtedly would see normalized production in Asia and elsewhere."
Indeed, Tesla Founder Elon Musk said building out a microchip and semiconductor infrastructure, "even moving like lightning," could take 12 to 18 months. "So it's not like [you can just] whip out a chip fab," he said.
Though auto manufacturers may be banking on domestically produced chips to help curtail shortages, Amsrud said that such production is "going to be primarily focused at leading edge stuff" such as cell phones, laptops and other electronics that rely on more revenue-friendly advanced chips versus the less expensive legacy chips that have largely dominated automakers' chip supplies for decades.
As chip production forecasts continue to extend recovery timelines well into next year and even beyond, Amsrud remains confident that anemic supply lines are on the mend.
"I think the industry is responding appropriately in terms of looking at some of these problems, and there are different solutions to this, but I'm optimistic that once we get through this, we'll have a healthier supply chain than we had coming into it," Amsrud said. "We didn't know how fragile the supply chain was until essentially COVID showed up and in a sense, stress tested and broke part of it."