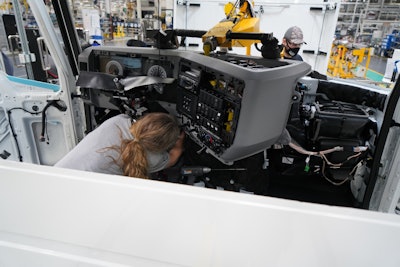 While auto manufacturers may be anxious to obtain more semiconductors, they're not so eager to talk when it comes to the Biden administration's push for their chip data.
Commerce Secretary Gina Raimondo recently threatened to use the Defense Production Act to get automakers to hand over information regarding their chip inventories versus their actual production needs.
Raimondo believes that having such data can help curb hoarding and create a more equitable approach to divvying up chips from strained manufacturers.
[Related: Truck orders drop but 'order number is not a true indicator of 2022 truck demand]
But providing unprecedented access to such information may do little to help vehicle manufacturers in the midst of a global economy hungry for the latest electronics that don't use older chips typically sourced for vehicle production.
"I'm a little dubious about what a chip czar within a given region can do because this is such a global industry," said IHS Markit senior analyst Phil Amsrud who closely studies the semiconductor market. "The supply chains are global. The competitors are global both inside and outside of automotive that I don't know how within a given country you prioritize that."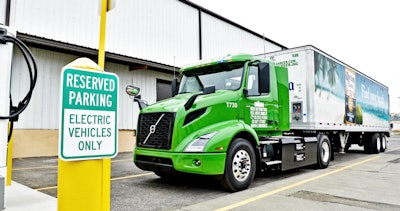 Out of several OEMs contacted by Commercial Carrier Journal, only Volvo Trucks, Mack Trucks and Stellantis responded when asked if they planned on handing over chip data.
Volvo and Mack, both subsidiaries of Volvo Group, reported that they were "looking into the RFI [request for information]" while Stellantis had already pledged support for the request.
"Stellantis will cooperate with U.S. Government-led initiatives aimed at improving transparency and alleviating ongoing constraints in global semiconductor supply chains," a company statement from Stellantis read. "Broad participation from the entire semiconductor supply chain will be critical for these efforts to be successful."
Broad participation in an increasingly chip-hungry market won't come easy, Amsrud said.
"Even if I could regionalize my competitors and say, 'We're going to go in there as this region,' it's still only a part of the picture because it's the global picture that we're trying to manage," Amsrud explained. "A regional view might be interesting, but you have to get everybody at the table when that's not a trivial task."
Not your grandpa's chips
Auto makers are battling for attention among other chip users like phone and laptop manufacturers that use more advanced chips that deliver higher profit margins.
"The majority of the semiconductor manufacturing investment is going right now on the leading edge process nodes, so seven nanometers and smaller," Amsrud said. "We call them SOC, or system on chips. Those kinds of devices are really targeted for cell phones and tablets."
While vehicles will use some SOC chips for infotainment and driver assist features, it's mostly larger, older microcontroller (MCU) chips that are used in vehicle production.
"What ends up happening is that the legacy products, a lot of the MCU stuff [roughly 20 nanometers and up] that's critical for automotive doesn't get nearly the investment, nearly the attention that the leading edge stuff does. That's part of why we got here," Amsrud said.
The demand for chips, largely stimulated by COVID with increased shopping for laptops and chip-laden devices, is more quickly bringing the auto industry to a crossroads.
"Now that we've seen that the supply chain disruptions can be pretty disruptive, what is the industry plan going to be on these mature process nodes?" Amsrud asked. "Is it going to be the supply chain putting in more capacity for that stuff? Or is this going to be a sign to the auto industry that they need to change their reliance on these mature process nodes, these mature products that they're very comfortable with, very familiar with, that are very cost-effective and extremely reliable? To change that model in favor of something that's going to be more advanced comes with other challenges—and how are they going to balance those things?"