Trucking news and briefs for Tuesday, Feb. 15, 2022:
Canada invokes Emergencies Act to crack down on protests
Canadian Prime Minister Justin Trudeau announced at a special press conference on Monday that he would invoke, for the first time in the nation's history, emergency powers that will allow him to clamp down on protests that have roiled the U.S.-Canada border at various crossings as well as the country's capital city, Ottawa, Ontario. While this is the first time the Emergencies Act, which was established in 1988, has been invoked, its predecessor, the War Measures Act, was last invoked by Trudeau's father, Prime Minister Pierre Trudeau, in 1970 during a period of unrest known as the October Crisis.
"The blockades are harming our economy and endangering public safety. Critical supply chains have been disrupted. This is hurting workers who rely on these jobs to feed their families," Trudeau said in announcing the move. Trudeau noted law enforcement's difficulty in containing the protests and keeping border crossings moving as justification for the move while promising that the act would allow stepped-up enforcement measures.
The move follow's Ontario's Friday declaration of a state of emergency. 
"The scope of these measures will be time-limited, geographically targeted, as well as reasonable and proportionate to the threats they address," said Trudeau, who made clear the country is "not using the Emergencies Act to deploy the military" and it would not suspend "fundamental rights" such as free speech and assembly. 
Trudeau said financial institutions would also be empowered to restrict funding or funds to protesters, and that the military could potentially be called on to tow vehicles blocking border crossings. 
On Sunday night, the Ambassador Bridge between Windsor, Ontario, and Detroit reopened -- clearing some of the final demonstrators resulting in some of the first arrests in the now two-plus-week-long "Freedom Convoy" events. 
[Related: On the 'Freedom Convoy' protest, with Canadian cross-border owner-operator Mike Murchison]
A scan of border wait times on Monday afternoon showed few if any delays. 
"I know that everyone is tired of this pandemic," said Trudeau. "We're hearing your frustration with COVID and even with the temporary measures we had to put forward to keep people safe. I know people are frustrated, I hear it. You have the right to express that frustration and even your anger with the government or government policies. It's something we'll always defend in this free and democratic country. But blockading streets and critical infrastructure and depriving your neighbor of their freedoms is a totally different thing. It has to stop." 
Trucking conditions soared in December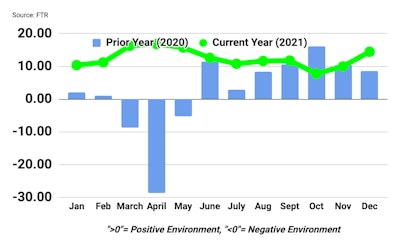 FTR's Trucking Conditions Index (TCI) for December rose to 14.45, improving from 10.0 in November. The December index reading is the highest since May 2021. The all-time high was 16.8 in April 2021.
Falling diesel prices and greater freight volume were principally responsible for the improvement, FTR says, but strong freight rates remain the bedrock of robust market conditions for trucking companies. FTR expects conditions to remain positive for carriers through 2022 with gradual easing, but swings in fuel prices could maintain volatility.
"Government data concerning the labor market is starting to reinforce our analysis that overall driver capacity is not as tight as would be implied by stubbornly high freight rates," said Avery Vise, FTR's vice president of trucking. "We still believe that the distribution of drivers in the market rather than the total number of drivers is the key issue. The market could remain stressed until capacity stops shifting from larger carriers to smaller ones."
Since December, one factor that was working in favor of carriers – falling fuel prices – has reversed, with fuel prices climbing to nearly $4 per gallon nationwide during the week ending Feb. 7.
"Potential catalysts for reversing this shift include continued sharp increases in fuel costs, a falloff in freight demand, or continued incremental gains in the driver supply among larger carriers, but none of those developments is a sure bet," Vise said.
Kenworth T680E BEV eligible for $120k CARB voucher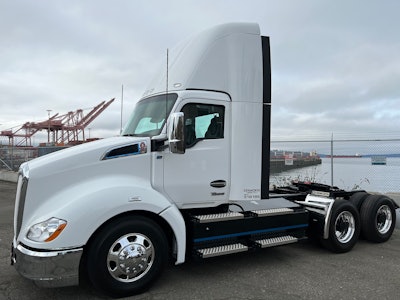 The zero emissions Kenworth T680E battery-electric truck is eligible for a base $120,000 voucher incentive available to qualifying California purchasers from the California Air Resources Board (CARB). 
The incentive is offered through the 2022 CARB Hybrid and Zero-Emission Truck and Bus Voucher Incentive Project (HVIP). In addition, drayage fleets may receive $150,000 vouchers through HVIP toward their Kenworth T680E purchases. The program also offers a 15% Disadvantaged Community (DAC) bonus voucher for qualifying vehicles domiciled in a disadvantaged community.
HVIP is part of California Climate Investments, a statewide initiative that puts billions of Cap-and-Trade dollars to work reducing greenhouse gas emissions, strengthening the economy, and improving public health and the environment particularly in disadvantaged communities. 
Designed for pickup and delivery, regional haul and drayage applications, the Kenworth T680E is available as a day cab as either a tractor or straight truck in a 6x4 axle configuration. The model is offered in an 82,000 lb. gross vehicle weight rating (GVWR). The T680E is equipped with 536-hp continuous power and up to 670-hp peak power and 1,623 lb.-ft. of torque and has a top speed of 70 mph. 
The zero emissions T680E has an estimated operating range of 150 miles, depending on application. The Class 8 BEV utilizes the industry standard SAE CCS1 charge port, can be fully charged in approximately three hours, and features Meritor's Blue Horizon 14Xe tandem electric powertrain.