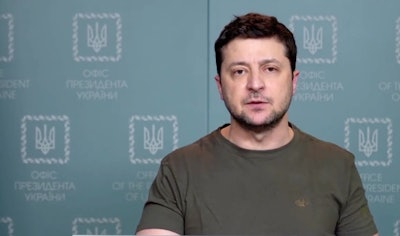 At 4 a.m. local time Feb. 24, a nation's nightmare came true when Russian tanks and troops crossed Ukraine's eastern border and charged towards Kiev. The war in Ukraine, widely seen as the most serious land invasion in Europe since World War II, has already claimed thousands of lives and devastated a nation of 40 million while promising to degrade an already frazzled global supply chain.
Though the U.S. domestic trucking industry remains mostly insulated from the flow of goods internationally, Ukraine and Russia represent major global players in metals, energy and food supplies that will likely worsen inflation and cause pain points for American fleets.
Here's a rundown of what the fleets can expect in the wake of perhaps the single most disruptive economic event since the dawn of the pandemic.
More inflation on its way
As Ukranian ports and airspace remained mostly closed, wheat futures jumped to their highest levels since 2008 before settling back down 4% to $8.98 a bushel. Giant food companies like Kellogg's, Coca-Cola, and Pepsi have already warned of double-digit inflation taking food prices higher. Aluminum – another big export from Ukraine – jumped 5.7% on the London Metals Exchange before settling down to a 1.5% increase.
In terms of the macro financial picture, all this inflationary signaling has lead to a market consensus that central banks may have to keep rates lower for longer, as the European Central Bank estimated the war could shave .4% of GDP off the entire Eurozone.
What does any of this have to do with domestic trucking in the U.S.? CCJ has already explored how fleets can best manage inflation in finances and maintenance agreements, but the war in Ukraine brings with it some specific conditions fleets should be aware of.
Firstly, expect inflation pain points to continue to weaken real wages for workers. Despite fleets significantly increasing pay for drivers, those paychecks likely won't go as far at the grocery store or within sectors that really drive Consumer Price Inflation, like used cars and housing. Conveniently, CCJ has also written about how best to offset the rising costs of driver compensation.
Supply chain snags to worsen
The shipping industry has already seen firsthand the destructive nature of the fighting in Ukraine with merchant ships targeted outside the port of Odessa, Ukraine. Shipping giants like Maersk responded by suspending container shipping to and from Russia. CCJ Top 250 fleets UPS and Fedex also halted shipments to Russia. Glenn Koepke, the general manager of network collaboration at the supply chain consultancy firm FourKites, told the New York Times that ocean shipping rates could triple as a result of the fighting.
While Russia had already been mostly cut out of international supply chains following sanctions for its 2014 invasion of the Crimean Peninsula in Ukraine, the impact of Odessa's massive port shutting down could still trickle down to the U.S. trucking industry.
Already in a crunch for semiconductors to build more Class 8 tractors and goods for them to haul, the shutdown threatens future chip production as Ukraine specialized in producing neon gases needed for the process along with rare metals like palladium.
Furthermore, on Monday Landstar System projected it could lose $100 million in the first quarter of fiscal year 2022 if two independent commission sales agencies it works with in Ukraine shut down due to the Russian invasion of the eastern European nation.
Trucking's rude awakening?
With the Ukraine crisis creating yet another supply chain shakeup in an already chaotic logistics industry, Foster Finley, a managing director at Alix Partners LLC, a consulting firm, said the war will only likely accelerate existing trends within trucking.
"This could be one of these moments that becomes a catalyst – an accelerant – that jumpstarts the industry," said Finley. While most auto makers and Class 8 OEMs have announced longterm goals to transition to zero emissions powertrains, Finley said it wouldn't "surprise me if many of these car producers take this time, this opportunity where there's likely to be wage increase or shortages for a period, and do several things like shifting from trucking to rail and accelerating the change from internal combustion engines to battery electric vehicles."
Finley acknowledged that these changes presented significant challenges of their own, but that the increased scrutiny on Europe and the world's use of fossil fuels would likely move the needle toward zero emissions techs.
Furthermore, this is a chance for trucking companies and public figures of all types to make public relations inroads. With 83% of Americans opposing Russia's invasion into Ukraine, according to a CNN poll, there's rarely a political cause as popular as supporting Ukraine, and the moves by Fedex and UPS show the logistics industry has a horse in this race worth backing.
"Logistics has lagged behind other parts of the economy in embracing ESG (environmental, social, and governance priorities in business)," said Finley.
While the carbon-intensive trucking industry has little opportunity to brag about its environmental impact, Finley suggested this crisis could afford industry leaders the opportunity to show off their social responsibility and ethical governance in addressing the issues of war and the inflation it will bring.
Fuel prices to soar
In the immediate aftermath of the invasion, both West Texas Intermediate and Brent crude futures jumped to over $100 barrel for the first time since 2014, and Western European natural gas futures increased as much as 60%, though crude futures dipped back under $100 later in the day. Further Commercial Carrier Journal reporting details analysts now targeting a price of $125 per barrel and a long stretch of "sneaky" price increases for diesel fuel.
Russia represents the world's number two largest producer of fossil fuels, and the sanctions from U.S. and European Union officials quickly sent liquified natural gas prices soaring 50% on the Asian spot market.
"It looks like [liquified natural gas (LNG)] is going to get more expensive. It's unsurprising that the invasion of Ukraine would be very bullish for spot gas prices and with it LNG, but the rise in crude oil prices also means long-term oil-linked LNG contracts will also rise," said Robert Songer, LNG analyst at data intelligence firm ICIS told Reuters.
"When any fuel powering trucks increases it is a big cost to trucking fleets," Mike Roeth, executive director of the North American Council for Freight Efficiency told CCJ, "but with the vast majority of trucks using diesel it really is the price of diesel that has the biggest affect."
Roeth pointed out that LNG hasn't really taken off as a fuel for Class 8 trucks as much as its sibling, compressed natural gas (CNG). LNG can be converted into CNG, and it's feasible that in the U.S., the world leader in producing natural gases, may shift some production of CNG to LNG if prices become attractive enough, but Roeth pointed to tax credits issued by California for fleets that adopt CNG-powered tractors as a possible buffer.