Trucking news and briefs for Wednesday, Feb. 23, 2022:
Trucking groups call on DOT for more truck parking
Demonstrating the importance of issue to the trucking industry, the American Trucking Associations and the Owner-Operator Independent Drivers Association penned a joint letter to U.S. Transportation Secretary Pete Buttigieg asking the U.S. DOT for assistance in addressing the nationwide shortage of truck parking.
The groups said the lack of parking "decreases safety for all highway users, exacerbates the industry's longstanding workforce challenges, contributes negatively to driver health and well-being, diminishes trucking productivity, and results in unnecessary greenhouse gas emissions."
The letter cites DOT's most recent Jason's Law Report, which demonstrated that the parking issue is continually getting worse. The 2019 report, the groups said, found that 98% of truck drivers regularly experience problems finding safe parking – an increase from 75% in the 2015 report. The full report has not yet been fully released, and the groups asked that Buttigieg expedite that process.
"Ultimately, the pervasive truck parking shortage can be explained with simple math – there are about 3.5 million truck drivers in the United States and approximately 313,000 truck parking spaces nationally; for every 11 drivers, there is one truck parking space," the groups said.
The letter outlines several issues the lack of parking causes, including hours of service limits forcing drivers to park in unsafe or illegal areas or to violate HOS regulations to find safe, legal parking; drivers not having access to restrooms, food and well-lit facilities; a decrease in driver productivity, causing reduced driver pay and higher operating costs; and more.
ATA and OOIDA asked Buttigieg to educate state and local governments about grants available to them through the Infrastructure Investment and Jobs Act that would increase funding for truck parking expansion.
"If the USDOT prioritizes the expansion of truck parking capacity and makes significant progress toward that effort, drivers will be safer and healthier, fleets will be more productive, the trucking workforce will be more resilient, and trucks will reduce their fuel needs and emit fewer emissions into the environment," the letter concludes. "All of these benefits would be passed on to the average American in the form of lower prices, greater availability of goods, and a cleaner planet."
Tenneco being acquired by investment group
Tenneco is set to be acquired by funds managed by affiliates of alternative asset manager Apollo for $7.1 billion in cash.
Upon completion of the transaction, Tenneco's shares will no longer trade on the New York Stock Exchange, and Tenneco will become a private company. Tenneco will continue to operate under the Tenneco name and brand and maintain a global presence.
The transaction, which has been unanimously approved by the Tenneco Board of Directors, is expected to close in the second half of 2022.
Volvo expanding U.S. Uptime Center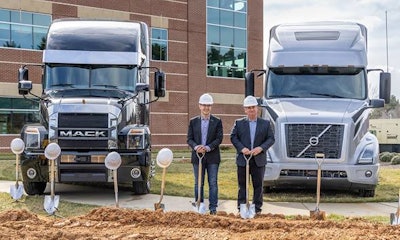 The Volvo Group announced this week a $41 million investment in North Carolina's Piedmont Triad to purchase and expand the building housing its U.S. Uptime Center, which will now also serve as the new global headquarters for Volvo Financial Services (VFS).
The expansion of the building, which is about two miles from VFS' currently leased location, will bring about 360 VFS colleagues onto Volvo Group North America's campus.
The announcements were made during a groundbreaking ceremony by Martin Weissburg, Volvo Group North America (VGNA) chairman and Mack Trucks president, and Marcio Pedroso, Volvo Financial Services (VFS) president at VGNA's Uptime Center.
"The Uptime Center is a strategic site for Volvo Group North America, playing a critical role in keeping our customers and their vehicles on the road, delivering goods, transporting people and servicing communities throughout the year," Weissburg said. "Our purchase and expansion of this facility reinforces our commitment to the great communities and residents of the Piedmont Triad, and we look forward to welcoming Volvo Financial Services to our campus."
Volvo Group's investment includes the acquisition of the Uptime Center building, which opened in 2014 and was previously leased by the company, as well as a 62,000 square-foot (5,800 square meters) expansion of the Uptime Center to house Volvo Financial Services' global headquarters. At project completion, the facility's new three-story footprint will be about 185,000 square feet (17,150 square meters), connected by a glass atrium and two upper-level walkways.
Cargo Transporters raises OTR driver pay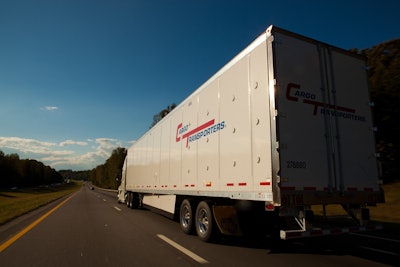 Cargo Transporters (CCJ Top 250, No. 170) announced Tuesday the largest driver pay increase in its 40-year history. The increase is effective Feb. 27.
The pay increase will touch all over-the-road drivers, solo and team. The company will increase solo driver pay by 6 cents per Rand McNally practical mile on all dispatched miles, increasing starting base pay to 60 cents per mile. Team driver pay will increase 3 cents per mile on all dispatched miles. A solo driver choosing the "All-In" pay option will start at 67 cents per mile.
In January, the company increased its Paid Time Off (PTO) package, and new employees start with the opportunity to earn three weeks of PTO.
"This is the largest, single increase in OTR driver pay the company has made since its start in 1982," said John Pope, Chairman. "We ask these drivers to sacrifice time at home with their family, uphold a high level of safety, fuel and maintain equipment, care for freight and dozens of other tasks. We are proud to offer this level of compensation for those that are the best in class in their profession."
Reefer carrier boosts driver pay
Albertville, Alabama-based B&G Supply Co. is implementing the largest comprehensive pay and compensation increase in its history, the company announced Feb. 21.
The carrier said every over-the-road and regional company driver will receive a cents-per-mile-bump beginning March 1. After announcing a substantial increase in 2021, the company is raising pay once again and will now be compensating drivers 50 cents per mile paid weekly with a quarterly bonus program giving them the potential to earn 55 cents per mile and four extra pay checks a year.
"B&G drivers have been nothing short of remarkable over the last few years through some challenging times in the transportation industry," B&G Operations Manager Jimmy Floyd said. "They've stepped up to the plate every time they've been asked to help keep stores stocked and food on the shelves across the country."