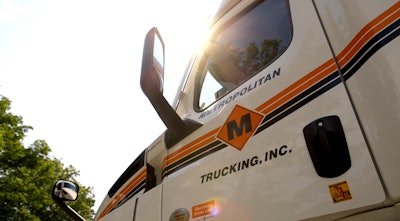 PAM Transportation (CCJ Top 250, No. 58) has acquired New York City-based Metropolitan Trucking (No. 234) for $77.4 million, the company announced Wednesday – PAM's first acquisition since buying Little Rock-based McNeill Trucking in 2003.
With locations in New Jersey, Pennsylvania and Illinois, Metropolitan Trucking operates dry vans primarily in the eastern U.S., serving customers that include major manufacturers, consumer products companies, retailers and transportation and logistics providers.
"We're proud to continue to operate with our historical culture and identity while becoming the Northeast regional face for PAM..." Metropolitan Trucking CEO Joe Mangino
PAM gets in the deal a fleet of fairly new equipment in a time where assets are hard to come by. The average age of Metropolitan's 320 trucks is barely two years, and slightly above 6 years for its 1,060 trailers.
Under the terms of the deal, Metropolitan will operate as an independent business under its current senior leadership team. No personnel changes are expected other than the retirement of CEO Joe Mangino.
"For 90 years Metro has provided superior service for customers, a great home for our employees, and a source of pride for my family. To ensure our future was secured for the long term, my goal was to find a partner with similar values, strong financial performance, and a desire to invest for growth," Mangino said via release. "PAM truly cared about our drivers and other employees, and their resources will provide more opportunity for our people and more capacity for our customers. We're proud to continue to operate with our historical culture and identity while becoming the Northeast regional face for PAM, and we look forward to a smooth transition and a bright future."
PAM President Joe Vitiritto noted his company was drawn to Metropolitan's group of experienced drivers, its long-standing customer relationships and a company culture complimentary to its existing businesses. In its first acquisition since early in the George W. Bush administration, PAM also picked a highly-profitable carrier that's generated approximately $83.3 million in total revenue ($75.4 million excluding fuel surcharge), $22.1 million in EBITDA and $13.5 million in operating income for the last 12 months ending March 31.
"As we looked to do our first acquisition in quite some time, Metropolitan checked all the boxes on what we were looking for in a company," he said. "We plan to run it as a separate business, which will allow the experienced management team, drivers, and employees to continue to provide the same high level of service and attention that their customers have come to expect. It also allows us to keep the culture intact for their drivers and employees."
PAM's purchase of Metropolitan Trucking is the third acquisition this month among CCJ's Top 250 for-hire carriers, joining Heartland Express (No. 42) picking up Roaring Spring, Pennsylvania-based Smith Transport (No. 111) and Schneider's (No. 8) acquisition of deBoer Transportation, a regional and dedicated carrier headquartered in Blenker, Wisconsin.