Trucking news and briefs for Tuesday, June 14, 2022:
Chevron completes REG buyout
Chevron Corporation on Monday completed the acquisition of Renewable Energy Group, following approval by REG stockholders.
Mark Nelson, executive vice president of Downstream and Chemicals for Chevron, said the deal brings together two companies with complementary capabilities, assets and customer relationships to make Chevron one of the leading renewable fuels companies in the United States.
"Chevron now offers our customers an expanded suite of cost-effective, lower carbon solutions that utilize today's fleets and infrastructure," he said.
Cynthia "CJ" Warner, formerly president and CEO of REG, has been appointed to Chevron's Board of Directors, effective Monday.
Steering gear recall by Bendix subsidiary could affect 100k trucks
R.H. Sheppard, a subsidiary of Bendix, is recalling 105,271 of its Sheppard steering gears, which the company said were purchased by 29 manufacturers to be used in vehicles, including major truck OEMs Daimler Trucks North America, Kenworth, Peterbilt, Volvo and Navistar.
Sheppard says certain steering gears – model numbers HD94E, M100P, M110P, HD94P, XD120P, MD83P, SD110P, M83P, M90P and M80P -- may have been assembled incorrectly, which can cause the gear to fracture, potentially causing a loss of steering control.
So far, two truck manufacturers, Daimler and Volvo, have issued recalls based on the Sheppard recall.
Daimler is recalling 6,492 model year 2021-2022 Freightliner (FCCC) MT45, 2022-2023 Western Star 4900, and 2022-2023 Freightliner Cascadia trucks with the steering gears installed.
Volvo's recall includes 1,632 model year 2022-2023 Volvo VN model tractors.
Owners may contact R.H. Sheppard at Steering22@RH-Sheppard.com.
Indiana Toll Road increasing rates
Truck drivers traveling across the Indiana Toll Road will be paying higher rates beginning July 1.
According to the ITR Concession Company, a typical five-axle commercial vehicle will pay 10% more to cross from one end of the toll road to the other, with the fee increasing from $66.31 to $72.88. Rates are calculated based on the number of axles of a vehicle.
The Indiana Toll Road spans about 157 miles between the Ohio Turnpike and Chicago Skyway.
The Owner-Operator Independent Drivers Association fought toll hikes along the Indiana Toll Road all the way to the Supreme Court, but a request to review its case was denied last October, allowing a 2018-issued 35% increase in tolls levied against commercial trucks to go into effect.
U.S. Xpress drivers reach safety milestone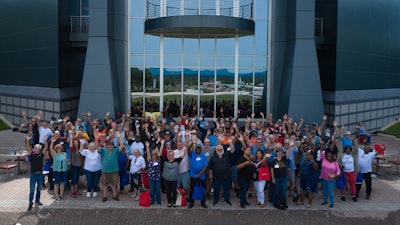 U.S. Xpress (
CCJ
Top 250
, No. 16) honored 181 professional truck drivers from its U.S. Xpress and Variant brands for their more than 241 million combined miles of safe driving – the equivalent of 9,678 times around the Earth, or more than 500 trips to the moon and back. This group of drivers hit these safe driving milestones during the 2021 calendar year and were honored during an awards ceremony last week at the company's Chattanooga, Tennessee headquarters.
Jim Davis, a 35-year U.S. Xpress Dedicated driver, was the first driver in company history to reach four million safe miles. Also recognized were seven drivers reaching their three million safe driving milestones, 10 Drivers of the Year, and one Trainer of the Year.