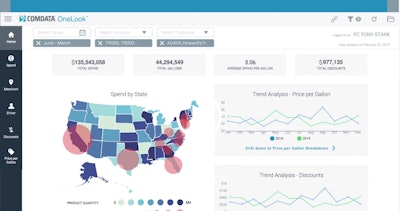 Payment provider Comdata, a Fleetcor company, added a new business intelligence (BI) platform named OneLook at no additional cost for its trucking fuel card customers.
The new platform has online analytics for measuring fleet performance using key performance indicators (KPIs), visualizations, and dashboards.
With the new platform, fleets will no longer need to wait for monthly reports to receive data, and then download it to spreadsheets to analyze using pivot tables, for example.
"This is a better way to do that," said Justin King, senior vice president of product and innovation for Comdata's North American Trucking Division. OneLook also gives additional visibility to fleet and fueling behavior, as well as individual driver decision patterns.
"Comdata OneLook is a modern and intuitive analytics tool that lets fleet managers view and manage every critical aspect of fleet performance, every mile of the day," he said.
Fleets using Comdata OneLook have access to near real-time dashboards with KPIs, driver behavior, fuel types, average price per gallon and more.
"Throughout our fifty year history, we have focused on bringing the best innovations in data insights and payment security to our fleet customers," said King. "From helping prevent driver fraud to helping fleets negotiate pricing with merchants, Comdata OneLook will be a game-changer in our instant, data driven world."
Prior to its debut, Comdata OneLook was developed using a customer-centered design approach where a group of local and trucking fleet and fuel managers were involved in its design and beta testing.
The Comdata customers represented more than 100,000 vehicles and drivers, provided feedback that helped design Comdata OneLook.
"Comdata OneLook has really honed in on what my team needs. We now have access to fleet analytics right out of the box, saving us the time and effort needed to pull reports manually. It used to take us half a day to do what we can now do in just a few simple clicks," said Bill Davis, category manager, procurement for PowerTeam Services, a beta customer.
Vicki Timple, DOT Compliance Administrator for KS Energy Service, remarked, "the ability to easily download reports for meetings and presentations is such a timesaver. I am excited about how Comdata can help our business."