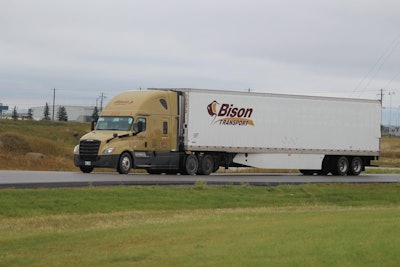 Winnipeg, Manitoba-based Bison Transport (CCJ Top 250, No. 50) announced Wednesday that, effective Oct. 31, Bison will acquire, through an affiliate, 100% of the issued and outstanding shares of Pottle's Transportation. Financial details of the transaction were not disclosed.
Headquartered in Hermon, Maine, Pottle's is a truckload carrier with more than 200 tractors and 750 trailers, along with a logistics offering. Pottle's is a second-generation business, founded more than 60 years ago by Cliff Pottle and then owned by his son, Barry Pottle, until it was acquired by Bison.
The company's success has been driven by a long tenured and reputable customer base, low driver turnover, a focus on safety, a quality fleet and a strong company culture. These factors are similar to those that have allowed Bison to be successful, Bison said in a press release, leading Bison to see a strong strategic fit between the two companies.
"We are excited about the next step in our U.S. growth," said Bison President and CEO, Rob Penner. "The investment in Pottle's punctuates our commitment to the region, the customers and the great people we have in our business. We look forward to connecting our most recent acquisition of Hartt Transportation Inc. with Pottle's as we continue to build Bison Transport USA."
Barry Pottle said he's "thrilled for our Pottle's team to join forces with the Bison team for endless opportunity and success for years to come."
This is Bison's second acquisition in 2022, as the company acquired Bangor, Maine-based Hartt Transportation at the beginning of the year.
NFI acquires Southeastern port service provider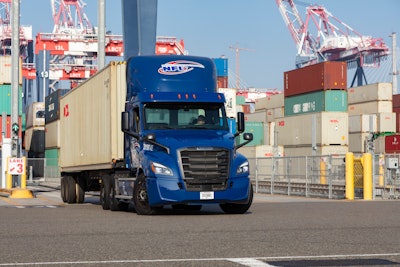 NFI (No. 23) announced this week that it has acquired MCO Transport, a provider of port service solutions in the southeastern United States. Terms of the deal were not disclosed.
With the acquisition, NFI expands its port offerings and export drayage services with locations in the growing regions of Wilmington, North Carolina, Norfolk, Virginia, Charleston, South Carolina, Savannah, Georgia, and Atlanta.
Established in 1976, MCO Transport is a family-owned business specializing in container drayage services and headquartered in Wilmington, North Carolina. Alongside its container drayage offerings, the company operates a wide array of transportation and warehousing services, including domestic truckload and specialized commodities between its strategically positioned terminals in the Southeast ports. The addition of MCO Transport enhances NFI's network in the Southeast and enhances the offering to new and existing customers, NFI said.
"When we look at an acquisition we look at three things: their people, culture, and if the expansion brings value to our customers," said Sid Brown, CEO of NFI. "With the MCO acquisition, we are getting exactly that. We are excited to welcome the MCO team to the NFI family and know they will play a key role in the future success of NFI. The acquisition also allows us to bring value to our customers by expanding our presence in the Southeast during a time when our customers are looking to diversify their port strategy.
There have been 21 deals among CCJ's Top 250 for-hire carriers since the beginning of June, and 29 Top 250 fleets have struck 29 deals this year.