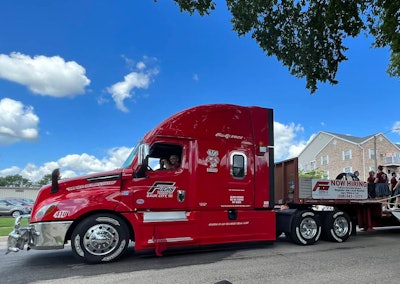 Jackson, Tennessee-based trucking company Ascend (CCJ Top 250, No. 143) has acquired Sauk City, Wisconsin-based Fuchs Trucking – the fourth transportation company acquired by Ascend, formerly Milan Supply Chain Solutions, since its launch in January.
Founded in 1955, Fuchs Trucking originally hauled livestock and forest products but currently serves customers in the building materials and furniture sectors via dry van and its 96 trucks. Its Midwestern footprint deepens Ascend's coverage in the region.
"Fuchs' geographic footprint and focus on the customer makes them a perfect complement to the Ascend network," said Ascend CEO Michael McLary. "We will continue to acquire regional truckload companies that align well with Ascend, layering in our technology and driver-friendly routes and policies while strengthening the network density. Based on our customer diligence process with Fuchs, we feel very comfortable with their customers, where they sit in the supply chain, their outlook, and the implications to our overall business mix and outlook practically."
Fuchs President Jay Doescher, who will retain his investment in the company post-acquisition, said the combined company will be better suited to serve the rising complexity of its customers' supply chains. "Additionally, we will benefit by combining with Ascend to expand our capabilities and improve our buying power, boosting our competitiveness in the regional truckload market," he added.
The acquisition brings Ascend's assets to more than 1,100 tractors and more than 3,200 trailers. In addition to the asset division, Ascend's fast-growing truckload brokerage offering complements the company's asset operations by providing expanded capacity, broader coverage, and specialized options, such as temperature-controlled and flatbed vehicles, while ensuring premium service levels.
"We do like adding capacity in the Midwest, and it is a good base from which we can add drivers by using our recruiting capabilities," McLary said, "but culture and the nature of customer relationships is also a predictor of growth, and we believe in where Fuchs stands in those two categories."
There have been 27 deals among CCJ's Top 250 for-hire carriers since the beginning of June, and 31 Top 250 fleets have struck 35 deals this year.