Trucking news and briefs for Monday, July 24, 2023:
Former Celadon subsidiary Jaguar acquired by investors
Luminus Management LLC has announced it has closed its acquisition of Jaguar Transportation Inc. (JTI), the holding company of Servicios de Transportacion Jaguar and its affiliates in an all-cash stock purchase transaction.
Jaguar is a former subsidiary of bankrupt Celadon.
The transaction was completed in partnership with Lilium Group, a private equity firm focused on transportation and industrial investments, and Gateway Transport Investments, a consortium of prominent Mexican investors active in the industrial and transportation sectors.
Jaguar will remain headquartered in Monterrey, Nuevo Leon, Mexico, and the current management team will continue in their roles.
Jaguar has a specific focus on supporting cross-border import and export trade with the United States, but also has substantial capabilities as an intra-Mexico carrier and a domestic and international freight broker. Most notably, Jaguar holds the only active Neutral Foreign Investment Permit, which allows a majority U.S.-owned company to operate with the same freedoms as a Mexican national carrier, the company said.
Heartland receives 10,000th Freightliner tractor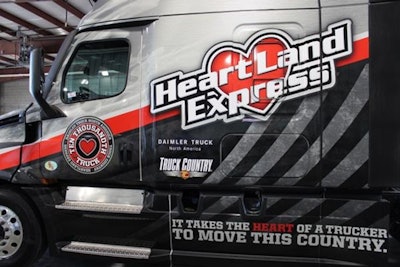 Heartland Express (CCJ Top 250, No. 45) received its 10,000th Freightliner tractor in North Liberty, Iowa, during their Driver Appreciation event held on July 12.
The events celebrated Heartland's drivers, office and shop employees, and key vendor partners. John O'Leary, President and CEO of Daimler Trucks North America, was on hand to present the truck to Mike Gerdin, President and CEO of Heartland Express.
"Heartland Express has been a long-standing partner of Daimler Truck and Freightliner, and we're very pleased to present their 10,000th truck," O'Leary said. "Our relationship goes back decades, and we look forward to a long and successful future together."
Mike Gerdin was pleased to accept the truck.
"Heartland Express and Freightliner have been working successfully together for a long time and this is a huge milestone for our company," he said. "We rely on our equipment to keep our drivers safe and allow us to provide award-winning service that we are known for across our industry. Our drivers love Freightliner for their comfort, reliability, and safety."
Truck heat, A/C supplier celebrates 50 years in North America
Eberspaecher Management this month celebrated 50 years of Eberspaecher Climate Control Systems in North America. The site in Mississauga, Ontario, is the oldest overseas subsidiary of the Eberspaecher Group and supplies its customers with vehicle heaters, energy storage systems,and A/C systems.
Martin Peters, Managing Partner of the Eberspaecher Group, brought the congratulations on behalf of the family shareholders as well as the whole management team: "Half a century of successful operations – this is indeed a unique and outstanding performance," he said. "Happy Anniversary to our Canadian team here in Mississauga. This also demonstrates how the long-term thinking and commitment of a family-owned business can pay off."
Today, the team with about 100 employees develops, produces, and distributes thermal management solutions specifically to meet the challenges of fleet operators in the American market. The main products are heaters for Class 8 truck manufacturers, but the subsidiary also promotes air and coolant heating solutions as well as spare parts for the RV, Off-Highway, Agriculture and Utility & Marine markets.