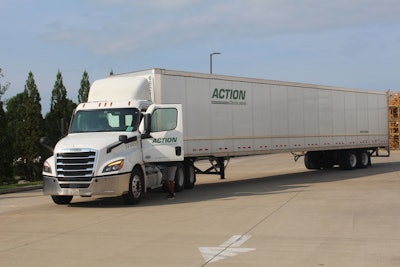 PS Logistics
P&S Transportation LLC, a subsidiary of PS Logistics (CCJ Top 250, No. 33), announced today that it has purchased all substantial transportation assets of Action Dedicated LLC and Action Dedicated II LLC. The two are subsidiaries of Action Resources LLC that specialize in dedicated transportation in the Southeastern United States. Financial terms of the transaction were not disclosed.
Headquartered in Birmingham, Alabama, Action Dedicated maintains a fleet of 120 drivers and 364 trailers, primarily hauling automotive components for blue-chip customers. According to Federal Motor Carrier Safety Administration data, Action also has 71 trucks in its fleet.
The transaction will further strengthen and diversify P&S's existing dedicated operations while also enhancing the services provided to existing and future customers within PS Logistics' freight network, the company said.
"We are proud to welcome Action Dedicated to the PS Logistics family," said Scott Smith, chief executive officer and co-founder, PS Logistics. "We look forward to working with its strong leadership team and upstanding drivers while also continuing to deliver best-in-class service to its customers."
The acquisition will provide Action Dedicated, its customers and its drivers with expanded capacity, new service offerings and increased economies of scale, PS Logistics said.
Organizationally, Action Dedicated will be managed by David McKinley, Action's current VP of operations, as a separate division of P&S and will continue to operate under the same name.
"We believe P&S will be a great successor and steward for the Action Dedicated business," said Staci Pierce, chief executive officer, Action Enterprise Holdings (No. 231). "We are pleased for Action Dedicated to be acquired by another 'driver-first' company as we continue our heightened focus on the growth of our specialty chemical and waste, environmental, and logistics platforms."
The Action Dedicated acquisition continues PS Logistics' acquisition strategy of partnering with driver-focused companies that complement existing service offerings. Since 2016, PS Logistics has successfully acquired 27 trucking and brokerage operations.
The acquisition is at least the 10th made this year by a CCJ Top 250 fleet. Forward Air Corporation (No. 57) in January agreed to acquire full-service expedited LTL carrier Land Air Express for $56.5 million and R.E. Garrison Trucking (No. 124) completed the acquisition of certain assets of Boaty's Transport. In March, Big G Express (No. 173) acquired RTR Transportation and Knight-Swift Transportation (No. 5) announced its acquisition of U.S. Xpress (No. 19). Trimac (No. 64) acquired American Industrial Partners Logistics. TFI International Inc. (No. 4) in May agreed to acquire Siemens Transportation Group (STG) and completed the acquisition of Hot Line Freight Systems. Transervice Logistics (No. 155) also acquired Lily Transportation (No. 140), while Dupré Logistics (No. 113) acquired truckload brokerage Interstate Transport.
[Related: Transervice Logistics parent acquiring Lily Transportation]