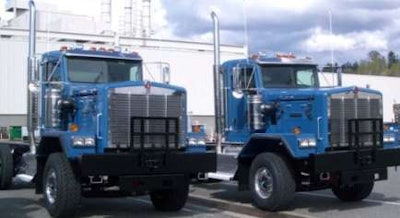 The Kenworth C500 vocational model has received a new, larger cooling module and hood facelift for 2010. The tough, durable C500, which is designed to handle heavy loads over rough terrain, is suited for demanding applications, including heavy haul, oilfield services, coal mining and construction. The increased size of the cooling module enhances the C500's ability to cool in harsh environments, ranging from desert sands to high-altitude stationary applications.
The new 2010 C500 hood, which is available either in fiberglass or durable sheet metal, accommodates the new 1,780 square-inch cooling module for improved cooling capacity, which allows Kenworth to offer the C500 across-the-board for GCWs up to 200,000 lbs. The increase also allows stationary pumping with the maximum horsepower and torque available, which is 600 hp and 2,050 lb.-ft.
The Kenworth C500 is available with a standard day cab, extended day cab, 38-inch AeroCab FlatTop sleeper and 42-inch modular sleeper. The extended day Cab enhances driver comfort with an additional 6 inches of length and 5 inches of cab height compared to Kenworth's traditional day cab, and also offers 2 more inches behind the wheel, additional leg room, up to 21 degrees of recline in the driver's seat and 2 extra cubic feet of storage behind the driver's seat.