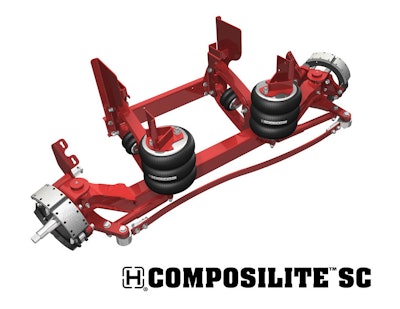 In March, Hendrickson launched the new Composilite Steerable Compliant SC series of lift axles in 10,000- and 13,000-pound capacities. The company says demand for the Composilite SC has been brisk, and the product now is available for installations at selected truck OEMs. Hendrickson says Composilite SC reduced system weight, minimized package space and offered the industry the first flexible tie-rod and dampened lift-axle design. The product offers owner-operators increased payload and reduced maintenance.
"The Composilite SC is the most successful lift-axle product changeover in Hendrickson's history," says Mike Gottschalk, general manager of Hendrickson Auxiliary Axle Systems. In September, Hendrickson will release the 20,000-pound capacity, which is the final addition and will round out the complete package of the Composilite SC Steerable family.
In addition, Hendrickson says the introduction of the Compliant Tie Rod with PerfecTrak Technology, a flexible tie-rod assembly and dampening system with "Passive Steer Ackerman" technology, has helped lower maintenance costs and increase uptime through its robust self-centering mechanism and improved driver feel. In conjunction with the Composilite SC launch for the Class 8 truck market, Hendrickson will offer a complete array of trailer-mount steerable products, also in multiple capacity configurations.