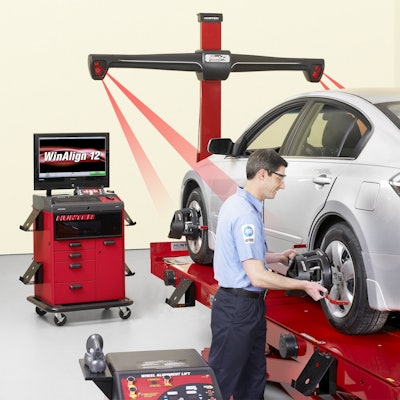 Hunter's HawkEye Elite alignment system features QuickGrip adaptors and three-dimensional targets designed to accelerate service and set-up times. Spring-loaded clamping arms are designed to adjust easily to various wheel sizes, and a thumb lever locks the clamp in place. The system's clamping arms grip the tire tread; only a protective rubber ring at the base of the adaptor contacts the rim. The entire adaptor and target assembly weighs 6 pounds, facilitating easy handling and installation, while its ultra-compact profile is designed to fit easily between narrow lift posts and other tight constraints. The polymer construction helps makes the assembly tolerant of accidental drops.
Digital imaging sensors include four high-resolution cameras that update onscreen adjustment readings and provide 3D modeling of wheel position and orientation. Roll-forward compensation is designed to allow a technician to compensate all four wheels and capture initial measurements in one motion. The consoles include Intel processors running Hunter's WinAlign alignment software on a Windows 7 operating system.
HawkEye Elite systems include Hunter's CodeLink electronic steering system reset device and a VIN barcode scanner. The software supports the use of a drive-on camera to assist with positioning the vehicle on the lift and the TouchRemote feature designed to allow a technician to operate the system remotely using an Apple iPhone, iPod touch or iPad device. The console design also includes integrated storage and charging for accessories and a touchscreen monitor option.