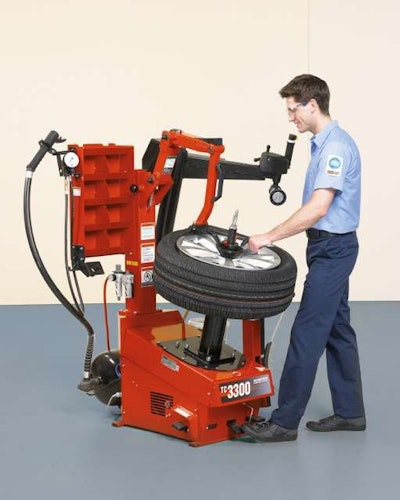 Hunter's TC3300 center-clamping tire changer is designed to allow for fast, simple clamping of wheel designs. The center wheel support is designed for flexibility to mount large assemblies with overall diameters up to 50 inches easily; wheels clamp to the machine safely through the hub, and not on the rim edge where marring damage can occur.
The electric motor exerts 800 ft-lbs. of torque to help with difficult assemblies. The floating, articulated mounting arm is designed to allow the polymer mounting head to follow the rim edge smoothly, reducing stress to beads; the polymer head, made of a wearing material, helps remove the potential of marring damage. A bead-loosening side shovel and blast inflation hose help seat the bead during inflation.
Options include a Plus Device assist tool to aid in lubricating, lifting and guiding the tire into the drop-center position, a Bead Press Arm specialized for high-performance tire service, and a wheel lift to help prevent potential injuries and fatigue from manually lifting heavy wheels into place.