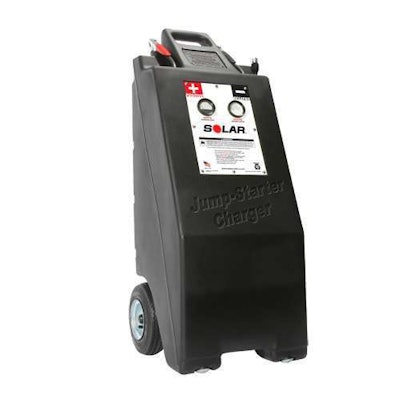 Clore Automotive now offers Solar's Model No. 2001, a 12V roll-around commercial jump starter suited for auto dealerships, auction houses, fleet operations, implement dealerships and other starting environments with high-vehicle counts. Power is delivered from a user-installed Group 31 battery (not included).
The charger features retractable input and output cable to help save space and facilitate easier cable management. It incorporates 5-foot jumper cable leads to help ease access to the starting points on vehicles of all shapes and sizes. Large pneumatic wheels and a small footprint help make the unit easier to maneuver on all types of terrain and in all shop environments.
The 2001 features a rugged impact-resistant case and industrial-grade construction designed to withstand harsh conditions. The unit's EZ View Control Panel features large gauges that can be viewed from a distance during service. The 2001 also features an onboard 10-amp automatic battery charger to facilitate quick, easy recharging of the unit.