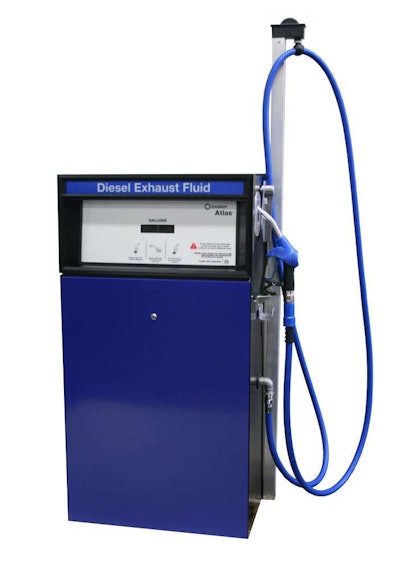 Gasboy's Warm Weather Atlas DEF dispenser shares the same components as the company's standard Atlas DEF model but does not include a heated cabinet required for locations that can see temperatures approach the diesel exhaust fluid freeze point of 12 degrees Fahrenheit, helping fleet operators in warmer climates save money by buying DEF in bulk. Fleet operators can integrate DEF control and management seamlessly into their existing cardlock, reporting and management infrastructure.
All Atlas DEF dispenser models are fully compatible with Gasboy and other existing fleet management systems because they use the same communication interfaces as standard Gasboy Atlas dispensers. The Atlas DEF dispensers also have the Gasboy footprint to minimize space on existing islands or skid tanks and the same rugged construction as all Gasboy Atlas models.
The familiar appearance and user interface complements existing sites, providing a uniform appearance for the operator. The mass flow meter and hydraulics are stainless steel to help protect against the corrosive characteristics of DEF. Special hanging hardware also is designed for DEF.