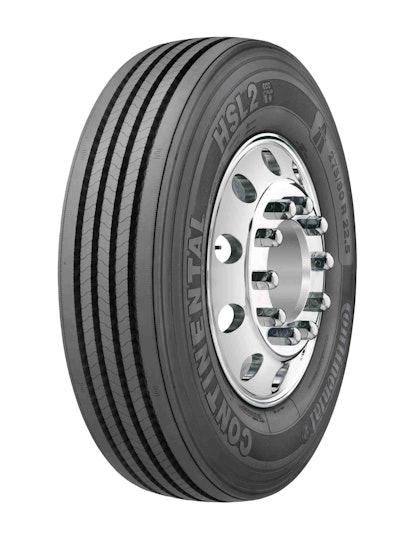 Continental Tire the Americas announced that it has added Eco Plus compounding – which the company describes as the "hallmark" of its low-rolling-resistance medium radial truck tires – to its entire portfolio of HSL2 highway steer tire products. The previous generation HSL2 will be phased out, with all sizes changed to HSL2 Eco Plus by the end of the summer.
"Even wear is crucial if a fleet is looking for optimal steer tire performance," says Libor Heger, brand manager. "With the latest generation of low-rolling-resistance compounding, the new HSL2 Eco Plus offers not only SmartWay-verified fuel-saving performance, but also advanced wear characteristics."
The HSL2 Eco Plus brings many features from the previous generation product, Heger says, including increased tread wear volume for added longevity, with engineering specifically for balanced pressure distribution and vectored forces within the tire's footprint. Continental's VAI, a graduated system of sipes that provide a visual indication of proper alignment, also is included from the previous product.
Heger says components of the Eco Plus compound were selected specifically to reduce two major concerns with steer tires – decoupler groove cracking and micro-cracking in the sipes. "Both of these contribute to irregular wear and premature removal of the tire," he says. "More even pressure distribution in the footprint versus the previous-generation HSL2 reduces slippage and tread 'snap,' which also delivers more even wear."
The HSL2 Eco Plus – which also features a four-ply belt package and advanced bead chafer construction – is available now in NAFTA markets in sizes 11R22.5, 275/80R22.5, 11R24.5, and 285/75R24.5; these sizes offer 19/32nds tread depth and load ranges G and H.