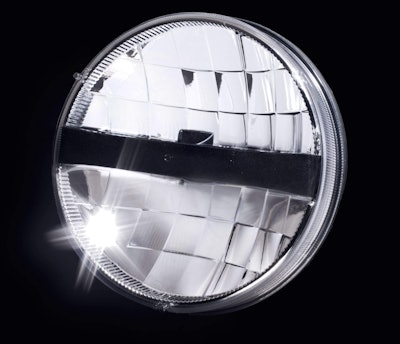 Peterson's 7-inch round LED headlight is a drop-in replacement for all PAR56 standard headlights – including H6014, H5024 and H6024 halogen sealed beams – and is designed to be more efficient than halogen lights, drawing 0.7-1.9 amps.
A color temperature range of 5,400 to 6,300k is engineered to simulate the natural daylight, while the solid-state multivolt design is built to be compatible with all 12- and 24-volt vehicles.
The light is constructed of heavy-duty cast aluminum housing and hard-coated polycarbonate lens for long life, and its H4 3-blade terminals can be integrated directly into the cast alloy housing.
For more information, go to www.pmledheadlights.com.