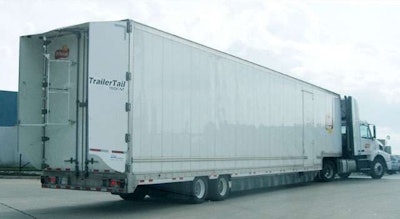 ATDynamics' TrailerTail Trident 3×3 is a three-sided 3-foot-long aerodynamic device designed to reduce semi-trailer suction drag and provide about 90 percent of the fuel savings benefit of the company's longer 4×4 version, which has an additional lower panel section.
The EasyLatch system is designed to allow drivers to deploy and collapse the device with no interaction, and notification decals placed above the trailer's landing gear and front driver-side corner help ensure that drivers are aware when trailers are equipped with aerodynamic devices. The company's EasyInstall hardware system is designed to allow for 30-minute installation on a dry van trailer.
To view a demonstration on how a TrailerTail opens and closes, click here. For more information, go to www.atdynamics.com.